A capsule carrying samples from the asteroid named Bennu successfully touched back down on Earth at 10:52 a.m. EDT, marking a historic mission success for NASA.
NASA's OSIRIS-REx spacecraft officially made history when its sample capsule safely floated down and landed in the Utah desert at 10:52 a.m. EDT on September 24, 2023. The capsule contained samples from the asteroid Bennu, located 4 billion miles away, and are the first asteroid samples collected by NASA. On its journey home, OSIRIS-REx released the capsule 63,000 miles from Earth, and after it safely landed, the teams discovered the gathered 250 grams (8.8 ounces) of rocks and other material from Bennu.
The sample was transported to NASA's Johnson Space Center in Houston, Texas, and underwent further examination in a dedicated new facility labeled the Astromaterials Research and Exploration Science (ARES) division. The next step is to divide the samples into different institutions and research facilities.
Reports indicate that 70% of the sample will remain at the Johnson Space Center, 25% will be shared among 200 scientists across 35 facilities, 4% will go to the Canadian Space Agency, and 0.5% will go to the Japan Aerospace Exploration Agency (JAXA).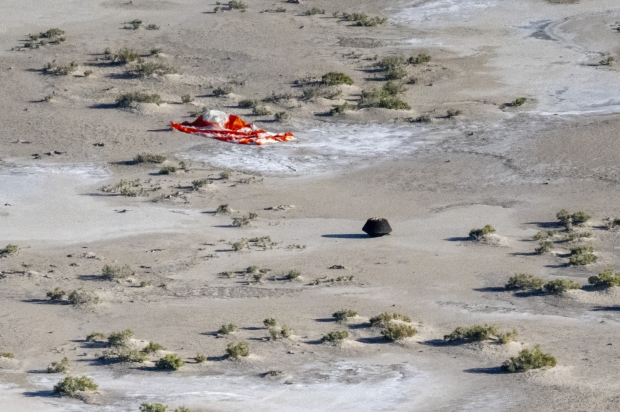 "Touchdown for science!" said Jim Garvin, chief scientist of NASA's Goddard Space Flight Center, from the landing site during a live broadcast. "For the first time in history, we brought goodies back home from this kind of object. This is so huge, and we're all breathing a big sigh of relief."
"Congratulations to the entire OSIRIS-REx team. You did it!" NASA Administrator Bill Nelson in a video during live commentary. "This mission proves that NASA does big things. Things that inspire us, things that unite us, things that show that nothing is beyond our reach."
These samples are extremely valuable to the scientific community as they may give researchers the data they need to further understand the evolution of asteroids, and by extension, the solar system.