ZeniMax Online has rolled out a new update that reduces stress for new Elder Scrolls Online players.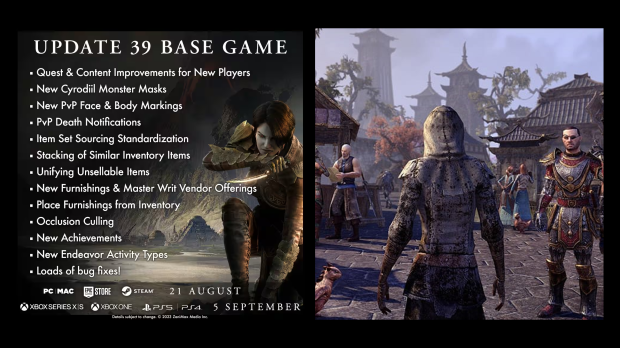 Retention is important for any live game and it comes in phases. Grabbing a player's attention is important and convincing them to download your game is a high priority. What comes after that is also equally important--is the player driven away from your game due to complexity or frustration? As Take-Two CEO Strauss Zelnick notes, everything is competing for consumer attention, so there's always lots of other things to play and do. It's up to a developer to capture--and keep--a player's attention.
This has been a friction point for MMORPGs in particular. Organically onboarding players is tough. To really get into an MMORPG takes time, effort, research, and the willingness to fail and learn. Starting a live game is daunting in of itself, but being overrun with tasks large and small acts as a major deterrent for new users.
In an effort to break through the confusion, reduce stress, and promote organic and general accessibility for new players, ZeniMax Online has released a new update for The Elder Scrolls Online on consoles that drastically improves quality-of-life (QoL) that reduces the amount of quests new gamers will take on (this update was released in August on PC).
"General improvements include Quest & Content Improvements for New Players, featuring a series of changes that reduce the volume and frequency of quests offered to your low-level characters. In addition, Tamriel's navigator NPCs that can transport characters between destinations will now indicate whether they can transport players to a location for tracked quests (active or inactive.)

Alongside the quest and content improvements Update 39 also includes changes to key item types to help improve item management. These updates include the ability to stack together similar Crown Store items using the "Stack All Items" option along with better communication surrounding which items can or cannot be sold."
This is something that all MMORPGs should adopt. For the full Update 39 patch notes, click here.