Diablo IV was one of the most hyped games of this year, and following its release, there has been a mixed bag of opinions by people who really enjoy the game, and people who really enjoy pointing out Blizzard's shortcomings.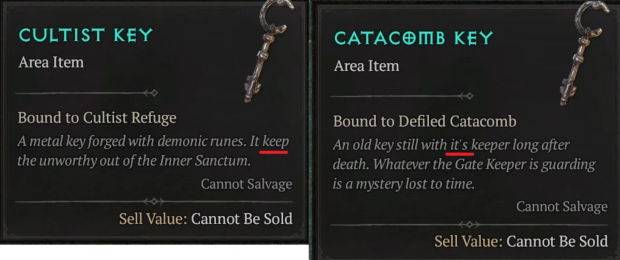 One of the latter players decided to compile a list of all of Blizzard's grammatical errors found in-game, and there aren't just a few - there are quite a lot. This user goes by the name Aeretes and posted a slew of screenshots to Reddit in a post that has since gained a lot of traction within the Diablo subreddit. The screenshots revealed many basic grammatical errors as well as punctuation errors - some as simple as unnecessary apostrophes in the word "it's".
Other errors included blatant misspellings of characters and creature names. An example of this would be the two separate objective descriptions in the quest Bad Blood, which points players to a potion that is said to have the ability to turn people in Nangiri. Notably, there isn't a race of Nangiri within the Diablo universe, but there is a race of serpentine people called the Nagari. While these errors are small, and some gamers may not even care, others believe it represents sloppy development.