At Gamescom, AMD announced two more GPUs to round out its RDNA 3 powered Radeon RX 7000 series, with the new Radeon RX 7700 XT and Radeon RX 7800 XT set to launch on September 6. These optimized for 1440p cards are set to go head-to-head against NVIDIA's GeForce RTX 4060 Ti and GeForce RTX 4070 in the mid-range bracket, and with the launch around the corner, expect reviews to drop very soon.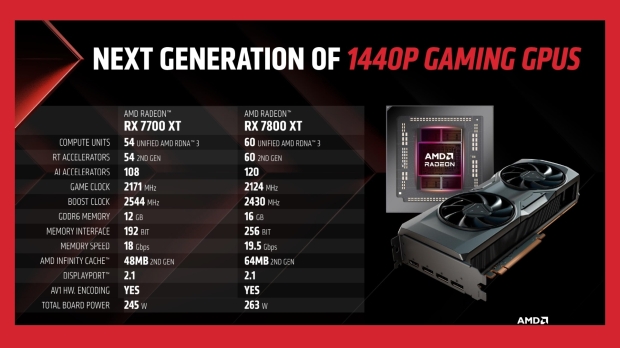 On the Gamescom show floor, Scott Herkelman, senior vice president and general manager of the Graphics Business Unit at AMD, made a somewhat surprising statement confirming that with the arrival of the 7700 XT and 7800 XT, "we're done," regarding new GPUs for its RDNA 3 lineup, which makes the five models you see above potentially it for the Radeon RX 7000 generation.
Or six if you count the new Radeon RX 7900 GRE for system builders. Scott Herkelman didn't rule out the possibility of new products arriving based on the existing ASIC, and we could see something arriving to bridge between the USD 269 Radeon RX 7600 and the USD 449 Radeon RX 7700 XT, but his statement was pretty clear.
"It's been about a year since we launched the very first RDNA3, and now here we are a year later, finishing up the series. We are done, and we are excited."

Scott Herkelman, AMD
The "RDNA portfolio is now complete," which sounds like AMD is ready to move on to the next thing - RDNA 4. The statement also puts a pin in the bubble that is a potential Radeon RX 7950X to compete with the GeForce RTX 4090.
It's unclear if Scott's comments also refer to the Radeon RX 7000M mobile space, where AMD has only released products that use the lower-spec Navi 33 GPU. With the new desktop Radeon RX 7700 XT and Radeon RX 7800 XT using Navi 32 - these comments could mean that AMD won't be releasing products that will directly compete with NVIDIA's higher tier GeForce RTX 40 Series mobile chips.