The KIOXIA CD8P Series is the latest storage solution added to the company's lineup of data center-class solid state drives (SSDs) - and it's a big one. Designed for general-purpose server and cloud environments, the KIOXIA CD8P Series takes full advantage of PCIe 5.0 performance and speed.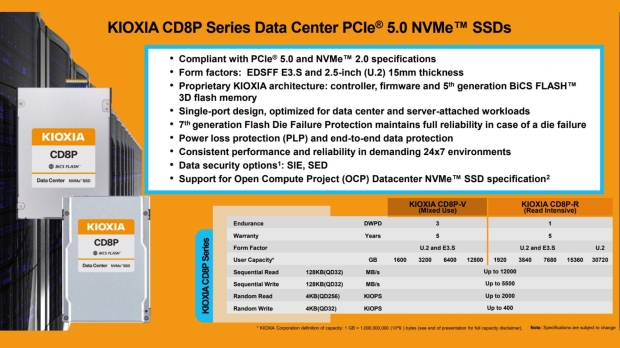 The kicker is that the KIOXIA CD8P Series will be available in capacities up to 30.72 TB and in Enterprise and Data Center Standard Form Factor (EDSFF) E3.S and 2.5-inch (U.2) form factors with a single-port design. EDSFF E3.S form factor capacities will start at 1.6 TB going up to 15.36 TB, with the 2.5-inch (U.2) form factor capacities starting from 1.6 TB to 30.72 TB.
Designed for data center environments, these new PCIe 5.0 SSDs have been optimized for performance, latency, and reduced power and thermal requirements. Compared to previous generation PCIe 4.0 solutions, the KIOXIA CD8P Series will deliver a 60 - 80% increase in sequential read performance.
Other specs include random read performance of up to 2,000K IOPS and random write performance of up to 400K IOPS.
The KIOXIA CD8P Series is based on KIOXIA BiCS FLASH 3D flash memory triple-level cell (TLC) technology, utilizing an in-house developed controller. The SSDs comply with PCIe 5.0 and NVMe 2.0 specifications, with full data reliability, end-to-end data protection, power loss protection, and flash die failure recovery.
"We are proud to introduce our latest data center PCIe 5.0 NVMe SSD for general-purpose server and cloud applications," said Neville Ichhaporia, senior vice president and general manager of the SSD business unit, KIOXIA America, Inc. "The CD8P Series is ready for next-gen PCIe 5.0 servers, delivering a great combination of high performance with low latency in both E3.S and 2.5-inch form factors."
"Growth in NVMeTM SSDs continues with PCIe capacity shipments in servers and storage systems expected to grow at a 40% CAGR between 2022 and 2027," Jeff Janukowicz, Research Vice President, IDC, adds. "The new CD8P Series SSDs gives these customers the range of performance, capacity, and security choices essential for meeting the storage requirements of next-generation digital enterprise and data center infrastructure."
The KIOXIA CD8P Series is currently to select customers. For more info, head over to www.kioxia.com.