Earthquakes are typically caused by subtle movements of tectonic plates that sometimes result in powerful tremors across regions.
Residents in the United States' Pacific Northwest are no strangers to these small tremors, and on July 22 and July 23, seismologists detected one, but it wasn't traced back to tectonic activity. According to Western Washington University's Dr. Jackie Caplan-Auerbach, this 2.3 magnitude quake was a result of Taylor Swift fans, or Swifties, jumping up and down to the singer's music during her Eras tour concert at the Lumen Field in Seattle, Washington.
This isn't the first time that an entertainment event has resulted in seismologists picking up seismic activity. Notably, researchers compared the recent Swiftquake to the Beastquake of 2011, which was caused by Seahawks fans when they celebrated Marshawn Lynch's 67-yard touchdown against the New Orleans Saints. According to Caplan-Auerbach, "The shaking was twice as strong as 'Beast Quake'. It absolutely doubled it."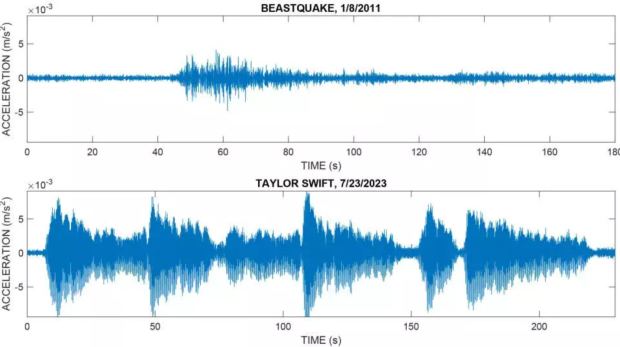 For those wondering how a seismic event could occur, there were some 70,000 people at Taylor Swift's concert, which according to Mouse Reusch, a seismologist at the Pacific Northwest Seismic Network, was one of the biggest events the region has seen in some time. For comparison, the Seahawks and Saints game that the Swiftquake was compared to had 66,336 attendees.
"Cheering after a touchdown lasts for a couple seconds, but eventually it dies down. It's much more random than a concert," said Caplan-Auerbach. "The music, the speakers, the beat. All that energy can drive into the ground and shake it."