There are billions of planets in the universe, and one, in particular, is suffering a tragic fate as its host star continuously pulls it closer and closer to its doom.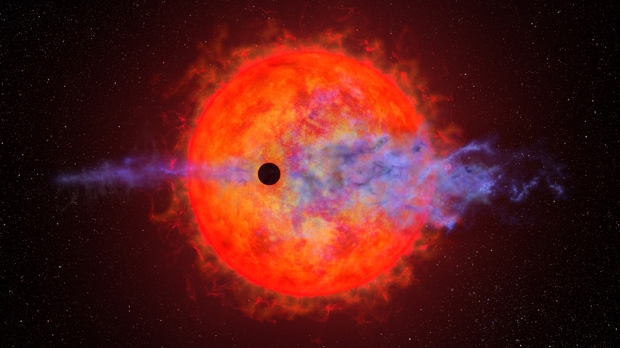 That planet is called AU Microscopii b, and its located just 32 light-years away from Earth, which is relatively close when you consider the sheer breadth of the universe. Its host star, AU Microscopii, is a red dwarf that is slowly but surely pulling pieces off of the planet that will ultimately end in a tragic demise of evisceration.
This morbid event, while tragic for the planet, is a prime target for scientific observations, which has already begun with NASA's Hubble Space Telescope that has pointed its highly sensitive instruments at the star and planet combo. So what will scientists learn from observing the death of this planet? Researchers expect that they will learn more about atmospheric evaporation, or the process of a planet's atmosphere slowly being destroyed by its host star.
Through these observations, scientists expect to learn more about how stars destroy the atmosphere of nearby planets leading to a deeper understanding of Earth's atmosphere and how it interacts with our local star - the Sun.
As for AU Microscopii b, Astronomers estimate that the planet is only four times the diameter of Earth but is only located about six million miles from its host star.
"It's 23 million years old - which is very, very young, basically a toddler star. Stellar astronomers are excited because AU Mic is an example of what the young, tantrum-like years of a red dwarf - the most common type of star in the Milky Way - are like," said Keighley Rockliffe, first author of a study on the new Hubble findings and exoplanet researcher at Dartmouth College, to Space.com.