Last month we reported on Seagate's new Heat-Assisted Magnetic Recording (HAMR) tech for HDDs that will see the arrival of capacities with 32TB and even 40TB on a single drive, with the company planning to go all in on the new storage style. As part of its latest financial reporting and investor earnings call, Seatage confirmed that its HAMR HDDs are here.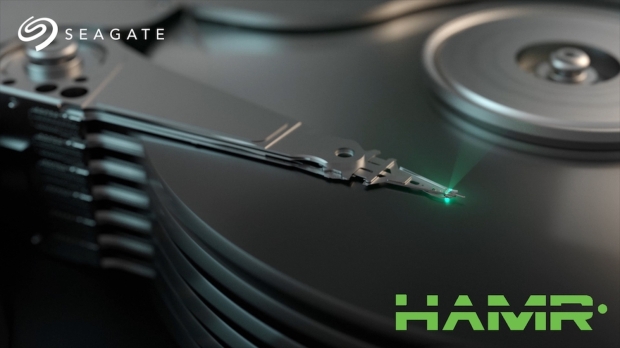 "We shipped our first HAMR-based Corvault system for revenue as planned during the June quarter," said Seagate's CFO, Gianluca Romano. "We expect broader availability of these Corvault systems by the end of calendar 2023." The rollout for more HAMR drives going up to 40TB capacity for a single unit is on track for early 2024.
Seagate's CORVAULT storage systems are designed to deliver the highest capacity and efficiency. They are designed with hyperscaling in mind - with these first HAMR drives now in the hands of select customers. A 30TB or 40TB density solution is a significant step up, with this first rollout all about qualification in the lead-up to a bigger rollout.
In the age of SSD storage, you might wonder what an HDD that looks like an old-school traditional platter drive brings to the table. Seagate views HAMR (Heat-Assisted Magnetic Recording) as the next step for magnetic high-capacity drives. It refines the process by making the data smaller and more densely packed than ever before. Seagate achieves this through data bits in contact with the HAMR laser heating and cooling in a nanosecond.
And with that, the HAMR laser doesn't affect the drive's overall temperature or reliability, making a storage solution that Seagate will deliver to the enterprise market for the foreseeable future. The transition will take some time, and with the big ramp happening later this year, the company will still offer several new PMR and SMR hard drives in the 20TB+ capacity range to customers that aren't quite ready to switch to HAMR.