Intel announces five Atom processors
Ultra Mobile 800MHz to 1.86GHz.
Published Apr 2, 2008 3:17 AM CDT
|
Updated Tue, Nov 3 2020 12:38 PM CST
1 minute & 36 seconds read time
We dialed into a press briefing this morning from IDF Shanghai and heard details regarding among other things Intel's ultra mobile 45nm Hi-K Atom (formerly codenamed Silverthorne) processors which will begin shipping in the final quarter of 2008. Let's try and sum it up now.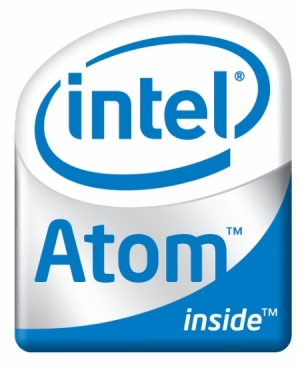 Intel's Atom processors and Centrino Atom platform (that is a single-chip with integrated graphics called the Intel System Controller Hub) will power ultra mobile devices into the future such as Mobile Internet Devices (MIDs), portable gaming devices, car entertainment systems and portable medical machines. Intel is showing off a whole bunch of MIDs at IDF which we will cover soon.
Intel has finally got all official with Atom detailing its launch SKUs and accompanying specifications. Sometime in Q4 Intel will begin selling its Z5xx series of Atom processing which clock speeds operating between 800MHz and 1.86GHz. Z500 operates at 800MHz and has a TDP of 0.65 watts operates on a 400MHz FSB with 512K L2 cache and will cost $45 USD each in 1000 unit trays. The current planned top dog is the Z540 which operates at 1.86GHz and has a TDP of 2.4 watts operates on a 533MHz FSB (along with Hyper Threading for two virtual cores) with 512K L2 cache and will cost $160 USD each in 1000 unit trays.
Below you will find details on all five launch Atom processors including the Z500 (800MHz), Z510 (1.1GHz), Z520 (1.33GHz), Z530 (1.6GHz) and Z540 (1.86GHz).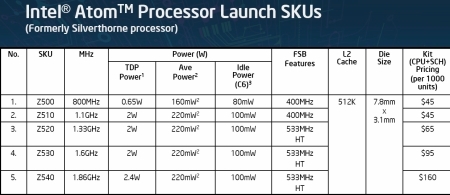 The technology package includes the Intel® Atom™ processor (formerly codenamed "Silverthorne") plus a single-chip with integrated graphics called the Intel® System Controller Hub that enables PC-like capabilities, an uncompromised Internet experience and long battery life in smaller devices that can fit in your pocket. Manufacturers around the world are planning to ship Intel-based MIDs beginning this summer.

MIDs are truly mobile devices that enable the best Internet experience in pocketable devices. MIDs will allow consumers to communicate, entertain, access information and be productive on-the-go, and are expected to represent a new class of next-generation, Internet-based portable video players, navigation devices, converged tablets and other consumer products.

Formerly codenamed "Menlow," Intel Centrino Atom processor technology includes the company's first-ever Intel Atom processor (formerly "Silverthorne"). The processor - Intel's smallest and the world's fastest chip under 3 watts - has a thermal design power range1 of 0.65 to 2.4 watts* (versus 35 watts for today's typical laptop), average power range2 of 160-220 milliwatts (mW) and idle power range3 of 80-100mW.