NASA and the European Space Agency (ESA) are celebrating one year of observations from the James Webb Space Telescope (JWST), the world's most powerful space telescope.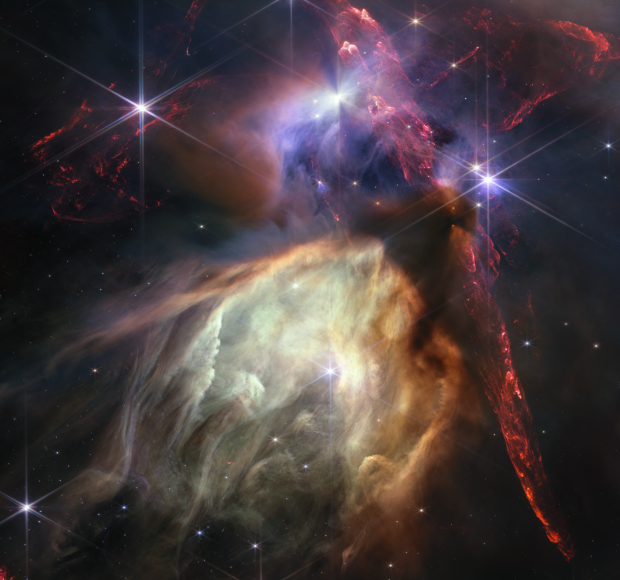 Webb has been scouring the universe with its extremely powerful infrared instruments, piercing through thick clouds of dust to see objects beyond what humans were initially capable. Webb is truly unfolding the universe one observation at a time, and NASA has taken to its blog to celebrate its numerous achievements, such as spotting the oldest supermassive black hole discovered so far, spying on sand storms on an exoplanet, and analyzing the atmosphere of numerous exoplanets in an effort to uncover the building blocks of life.
The above image was taken by the JWST, and it showcases a star-forming region in the Rho Ophiuchi cloud complex located approximately 390 light years away from Earth within the constellation Ophiuchus. Webb's image showcases approximately 50 young stars that all have a similar mass to the Sun, or smaller. NASA explains that the darkest areas of the image contain the densest amount of dust are "thick dust cocoons still-forming protostars".
"On its first anniversary, the James Webb Space Telescope has already delivered upon its promise to unfold the universe, gifting humanity with a breathtaking treasure trove of images and science that will last for decades," said Nicola Fox, associate administrator of NASA's Science Mission Directorate in Washington.

"An engineering marvel built by the world's leading scientists and engineers, Webb has given us a more intricate understanding of galaxies, stars, and the atmospheres of planets outside of our solar system than ever before, laying the groundwork for NASA to lead the world in a new era of scientific discovery and the search for habitable worlds," added Fox
"In just one year, the James Webb Space Telescope has transformed humanity's view of the cosmos, peering into dust clouds and seeing light from faraway corners of the universe for the very first time. Every new image is a new discovery, empowering scientists around the globe to ask and answer questions they once could never dream of," said NASA Administrator Bill Nelson.

"Webb is an investment in American innovation but also a scientific feat made possible with NASA's international partners that share a can-do spirit to push the boundaries of what is known to be possible. Thousands of engineers, scientists, and leaders poured their life's passion into this mission, and their efforts will continue to improve our understanding of the origins of the universe - and our place in it," added Nelson