At a glance, you'd think that the state of classic and retro gaming was in a good place - from remakes to remasters to Atari bundles featuring games from the 1970s to being able to fire up classic 1990s Sega Genesis and Super Nintendo games on the Nintendo Switch. In reality, though, it's a very different situation - and a cause for concern.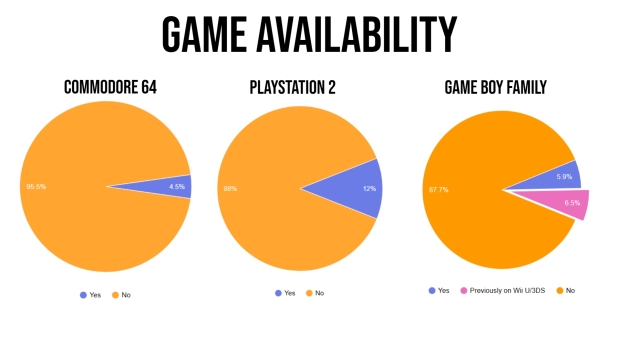 A new in-depth study from the Video Game History Foundation has found that 87 percent of classic games released in the United States are out of print or no longer commercially available. The study defines classic games as titles released before 2010, with games taken from the impressive MobyGames database serving as the basis for the study.
Is it surprising that you can't enter a retail outlet and pick up a copy of Star Wars: Shadows of the Empire for the Nintendo 64? No, but the study highlights the need for proper videogame preservation outside companies like Nintendo, Sony, and Microsoft bringing their catalog of classic games into the digital era. The study shows that after Nintendo shut down its 3DS and Wii U eShops in March 2023, the number of Game Boy games you could legally obtain "declined sharply."
It gets interesting that even though only 4.5% of games for the Commodore 64 are still available, this number only rises to around 12% for the PlayStation 2 - one of the most popular game consoles of all time. These numbers align with the availability of pre-World War II recordings and even silent films that have been lost to time.
Having 87 percent of all games released before 2010 disappear is a scary thought, and the only real positive side of the story comes from the retro gaming and emulation scene that has sought to preserve and archive video game releases for all systems and platforms. This extends to preserving physical hardware and media, as currently, there is no official archive for video games at a government level.
Unless you're dealing with abandonware, emulation, and ROMs for older games and systems is illegal, even though it might be the only way to showcase and preserve some titles. And with that, change is needed at the copyright level.
"This is the moment to sound the alarms for both the video game industry and the preservation world," Kelsey Lewin, co-director, Video Game History Foundation says. "The study proves that it's worse than it looks - for every Mario game that's available, there's hundreds of less popular games that are critically endangered. Our goal is that by exposing just how dire the state of game availability is, we can drive changes to our copyright laws that will make video game preservation stronger, and able to take on the challenges of the future."