Nvidia Hybrid SLI AM2+ chipset details
Things are heating up for AMD.

Published Mar 26, 2008 2:53 AM CDT
|
Updated Tue, Nov 3 2020 12:38 PM CST
Theo Valich over at TG Daily is running a story regarding Nvidia's forthcoming chipsets for AMD Socket AM2+ processors.
Apparently Zotac leaked information out early regarding the nForce 750a chipset which is the first AMD chipset to be release by Nvidia since the nForce 590 SLI way back in May 2006. Theo reckons that it looks like that SNAP (Strategic Nvidia-AMD Partnership) isn't dead after all. That's pretty clear, wouldn't you think though? Anyway...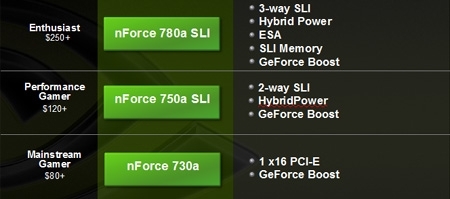 The nForce 750a is the first Nvidia chipset for the AMD platform to support a range of new and mostly undocumented Hybrid SLI features including Hybrid Power and GeForce Boost. It should prove to be a fairly capable motherboard as the foundations of a mid-range gaming systems driven by Nvidia's proven marketing skills, costing around $150 USD or less.
Hybrid Power is an interesting feature which allows discrete graphics cards to be installed in the PCI-E slots and when in 2D mode (Windows), it will use the onboard graphics with the discrete cards powered down and when in a game or something intensive, it switches automatically over to the discrete graphics, hence saving power. It is really easy to setup from what we have seen and it doesn't require a crazy cable setup, just plug your DVI cable into the motherboard's onboard connector and all data is sent from the discrete cards through the onboard graphics. GeForce Boost is currently only supported by the GeForce 8500 GT and 8400 GS and will offer a performance boost when teamed up in SLI with onboard graphics.
Nvidia's 780a is due out on April 4th and it will carry all the same features as the 750a with the addition of three-way SLI support, ESA support along with SLI Memory aka EEP. It is going to be super interesting to see the performance of a high-end nForce 780a motherboard along with B3 revision AMD Phenom quad-core processor against a similarly priced Intel system, which would probably be something along the lines of an X48 DDR2 motherboard and Q6600 processor. We will be looking into all this shortly after our first look at the new and improved TLB cache bug free Phenom.
You can read the rest of the story over at
TG Daily
which also includes a list of past current and future AM2+ and AM3 processors.