NASA's Perseverance rover has been roaming the surface of the Red Planet since February 2021, and it has recently discovered a strange rock that's causing scientists to scratch their heads.
NASA's Mars rover has been exploring the Jezero Crater since it landed on the Red Planet, with the primary mission of the rover being to obtain a multitude of Martian samples that will then be transported back to Earth for further analysis. NASA hopes that Perseverance will be able to discover evidence, or a presence of ancient microbial life, possibly within the dried-up deltas all around the 28-mile-wide Jezero Crater.
Perseverance secured several samples throughout its travels, while also snapping as many pictures as it can of the surrounding Martian landscape. One of the pictures that has attracted the attention of not only the general public but also scientists from around the world is the image of a rock that appears to have a vacant circle at its center, earning it its "doughnut" name. The picture was captured with Perseverance's SuperCam, which identified that the rock was 324 feet away from the rover.
"I can't say with absolute, 100% certainty it's not a meteorite, but I think it's highly unlikely," Rice said. "The reason I say that is because, this region we're in, we see a lot of rocks that have these kind of hollowed-out interiors."
Rocks that are similar to the one showcased above are typically more than a billion years old and were around to experience Mars when it had river systems.
"Those were brought in by floods by this big river channel, the Neretva Vallis - that's the channel that brought all the water and the rocks and sediment in there. Really, scientifically, it's not anything special," Rice said.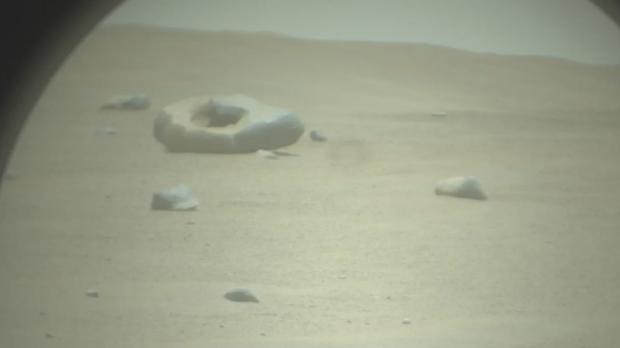 The true nature of the rock has yet to be confirmed as NASA hasn't sent Perseverance to inspect it.