Thanks to the FTC v Microsoft federal court case, gamers now have a better idea of when The Elder Scrolls VI could release.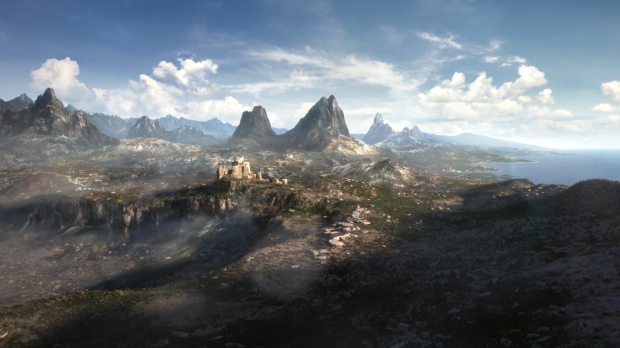 Bethesda announced The Elder Scrolls VI in 2018, way before it was purchased by Microsoft for $7.5 billion. Bethesda's Todd Howard has only let little bits and pieces about Elder Scrolls 6 slip between the cracks, confirming the game is in pre-production and that Starfield is the studio's main focus.
Now Microsoft and Bethesda have inadvertently updated gamers through the recent FTC v Microsoft federal evidentiary hearing. According to transcripts from the hearing, it looks like The Elder Scrolls VI could launch sometime between 2026 and 2028.
2026?
In closing arguments of the case, Microsoft legal counsel Beth Wilkinson mentioned that The Elder Scrolls VI (which was erroneously referred to as Elder Scrolls 16), Wilkinson clarified that TESVI's "projected release is 2026 as a singleplayer game."
2028?
On day 2 of the evidentiary hearing, Xbox gaming CEO Phil Spencer delivered testimony that said Elder Scrolls 6 is still five-plus years out. This would be consistent with a large multi-AAA game development cycle considering Bethesda has principally focused on Starfield's development across an 8-year period, and that The Elder Scrolls VI is only entering pre-production phases.
Elder Scrolls VI exclusivity
This is a hot topic. The truth is that we don't know whether or not The Elder Scrolls VI will be exclusive. There seems to be conflicting information on this; on one hand, Phil Spencer and ZeniMax's Pete Hines say exclusivity is set on a case-by-case basis. On the other hand, the FTC presents evidence of internal Xbox gaming execs saying that all ZeniMax games will be Xbox exclusive.
In Day 2 of the hearing, Phil Spencer said this about the TESVI's exclusivity:
"It's so far out it's hard to understand what the platforms will even be at this point. It is so far away that making a definitive statement on what platforms it's going to launch on at this point, inclusive of our own platforms, [would be hard to do.]"
"We've been unclear on what platforms its launching on, given how far out the game is. It's difficult for us to nail down what platform that will ship on when the game is five-plus years away."
Elsewhere in his testimony, Spencer outlines that not all ZeniMax games will be exclusive:
Q Is it incorrect or correct to say that Microsoft will always make its games exclusive?

That's incorrect

Q Does that include ZeniMax games?

Yes.
As CEO of Xbox's games division, Phil Spencer has final say on game exclusivity.
When asked by FTC lawyer James Weingarten on whether or not he had first-hand discussions with ZeniMax Chief Operating Officer Jamie Leder on platform exclusivity, Spencer expands Microsoft's policies on exclusivity:
In running the platform business, the Xbox business, the topic of exclusivity is something that we generally have to talk about--the Switch and PlayStation, they both have significantly higher number of exclusives. It's talked about a weakness of our platform.

Exclusivity is a topic talked about continuously even outside of ZeniMax games.

There have been so many discussions about exclusivity of titles on Xbox that I don't remember a conversation in Fall 2021. Exclusivity on console titles is a general topic, it's a constant convo.

I've had many conversations with Jamie Leder at ZeniMax about which platforms his titles ship on.
The FTC lawyer press Spencer a bit more on the topic of exclusivity, especially as it relates to the presumption of ZeniMax platform releases:
Q Do you remember talking about Jamie Leder [ZeniMax head] about presumptions of platform releases?

I wanted to make it clear to the team that their games they're building would at least be shipping on Xbox and PC. I had a discussion with Jamie that we were at least focused on those two platforms.

I announced that we'd made a decision on a case-by-case basis. We would leave the decisions we would make for other platforms for a later date.

In running our business, I understand the ZeniMax games are building, that their core games would launch on PC and Xbox.

I know that at least they will ship on Xbox and PC, and the other platforms we choose to support with our content is a case-by-case basis."

Our teams, first-party and ZeniMax, understand that their games will ship on Xbox and PC, and other platforms will be decided at a later date.

We make the decision on a case by case basis, there are games that we have shipped on PlayStation only and not day and date only, and not on Xbox, and vice-versa. We've done day and date on both Xbox and PlayStation. In general, Jamie and I would have discussions about platforms.
Exclusivity for ALL ZeniMax games?
In day 5 of the hearing, Xbox gaming CFO Tim Stuart testified before the court. As part of his witness examination, Stuart was presented with a series of emails by the FTC.
These emails were between members Xbox's internal leadership team including Xbox Game Studios boss Matt Booty, Xbox senior finance exec Jamie Lawver, and Xbox gaming CFO Tim Stuart.
Below is a quick transcription of an email chain between Booty and Stuart regarding ZeniMax game exclusivity:
Stuart: "All games going forward?"

Lawver: "Yes"

Stuart: "Not just new IP but ALL? Wow.

Lawver: "Yes"

Stuart to Lawver: "We will have AM issues in the deal model as we pull a huge amount of PS units out of the model."
Weingarten asked for clarification:
Q PS means PlayStation? AM means Accountability Margin?

That's right.
Here's a transcription of a conversation that Stuart had with Matt Booty on the topic:
Stuart: "This is new IP, I assume, not ALL games?"

Booty: "Nope. All games."

Booty: "As I was saying, different than the deal model."
As you can see, it remains incredibly unclear whether or not The Elder Scrolls VI will be exclusive to Xbox and skip PlayStation.