The new MAG GL Series power supplies from MSI are both PCIe 5.0 ready and ATX 3.0 compatible, though it's the addition of 16-pin connectors designed in yellow - the 12VHPWR for new GPUs in the GeForce RTX 40 Series - that feels like a great design choice.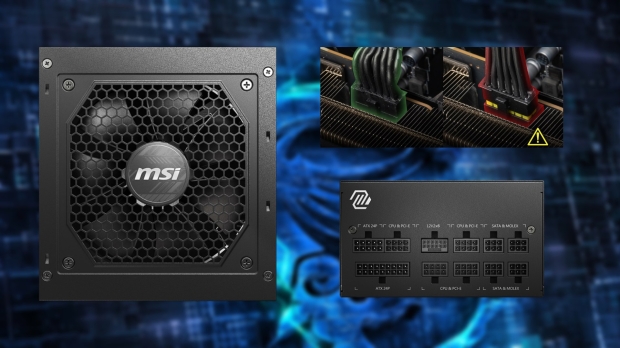 This comes down to the 12VHPWR adaptors and cables burning out, an issue that became a big concern around the launch of the new GeForce RTX 4090 and GeForce RTX 4080. Ultimately, most of the issues were around cables not being connected properly on the GPU side. Hence, adding yellow-colored 16-pin connectors for the MAG GL Series means you'll have visual confirmation that the connection is secure and fully seated.
"Examining the reported cases of power supply connectors being burnt when paired with high-end graphics cards, we've identified the main reason," writes MSI in the MAG GL Series power supplies announcement. "The connectors not being plugged in properly, and the connector pins [are] suffering from fallouts. With this new cable, we successfully tackle both issues head-on."
MSI's new patent-pending dual-color 16-pin cable design is a simple and elegant solution for cables that can supply up to 600W of power. In addition to the admittedly cool new cable design, the MAG GL Series are also 80 PLUS Gold certified power supplies, fully modular, and have a suite of current protection mechanisms.
MSI has three models available, the 850W MAG A850GL PCIE5, the 750W MAG A750GL PCIE5, and the 650W MAG A650GL. The 650W model doesn't feature ATX 3.0 support.