With Diablo 4 featuring five unique classes each with multiple different build paths, you may find yourself wondering what your best option is to take on the legions of hell.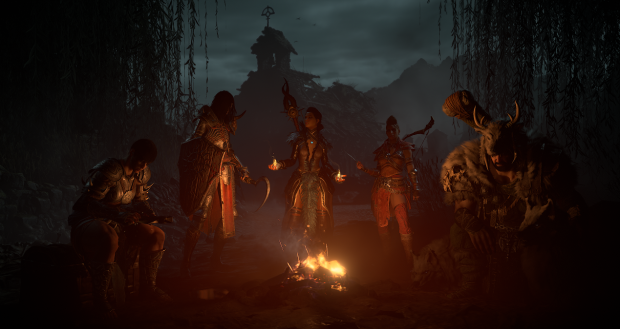 There are five main class options for you to choose from at the beginning of your adventure: Necromancer, Druid, Barbarian, Rogue, and Sorcerer. Each of these options provides unique strengths, weaknesses, and playstyles.
While there is no correct answer to this question, each of these options provide a very different gameplay experience as far as things like mechanical difficulty and combat loops go. In this short guide, you will find a brief gameplay overview of what each class has to offer. Please keep in mind the best choice is always what seems the most fun to you as constant balance patches are always changing the meta and what is "powerful" is always subject to change.
Rogue
The Rogue is the perfect class for anybody who has a need for speed. With both range and melee options, his high-octane, high-skill ceiling class is great for someone who prioritizes gameplay first.
Pros
Fastest class in the game

Fun and rewarding gameplay

Easy to access Legendaries
Cons
Difficult to play and master

Squishy

High effort playstyle
Sorcerer
The Sorcerer is the magic user's best friend. The Sorcerer easily gets the gold medal as far as the visual department goes. With the most build variety in the game this class is perfect if you are looking for and multiple gameplay styles and flashy spells.
Pros
Amazing visuals

Build variety/options

Good utility/Crowd Control
Cons
Squishy

Needs gear for power

Difficult to obtain Legendaries
Necromancer
The Necromancer is the great commander of the undead, this pet-focused mage of death is a wonderful choice for anybody looking to fight the forces of evil with even more, forces of evil.
Pros
Pet Focused

Bulky with strong sustain

Easy to play

Automated damage
Cons
Not many build options

May become boring

Slow
Barbarian
The Barbarian is the class for those of you who have your heart set on smashing things. This action-packed walking tank is perfect for anybody looking to fight their opponents head-on.
Pros
Very durable

Easy to play and master

Simple but satisfying
Cons
Limited build options

Repetitive gameplay
Druid
The Druid is Diablo's animal-loving shapeshifter capable of wreaking havoc on your foes with the power of nature. Weaponizing both the elements and animal kingdom this walking behemoth is sure to make its mark.
Pros
Very durable

Many build options

Great arsenal of legendaries
Cons
Slow

Hard to obtain legendaries

Takes a while to get going
In conclusion, Activision-Blizzard has gone above and beyond in making sure that your class fantasy experience will be a good one. Diablo 4 has many great options to choose from depending on what tailored experience you are looking for. I would confidently say that all five of Diablo 4's classes are a great option, and regardless of what you pick you are sure to have a great time.