Intel Arc Graphics added a couple of new professional graphics cards to their line-up with the Intel Arc Pro A60 and Pro A60M combo for workstations. Both expand the PCIe lane usage to 16 compared to other Arc Graphics products, and they support up to 12GB of VRAM with 384 GB/s of memory bandwidth - another step up over the current Arc line-up.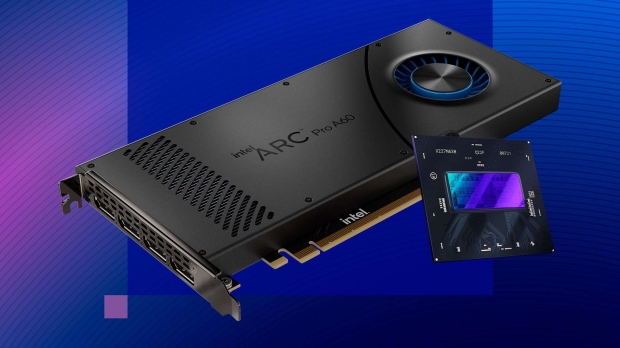 They're not only the fastest Arc workstation solutions that Intel offers, and the Intel Arc Pro A60 is single-slot slim too. Specs-wise the Arc Pro A60 features 16 Xe Cores, 256 EUs, 16 RT units, 256 matrix engines, and 12GB of GDDR6 memory on a 192-bit bus. The mobile-focused Pro A60M reduces memory capacity to 8GB on a 128-bit bus.
Compared to the consumer-based Arc graphics, these new workstation models increase the dedicated AI Xe Matrix Extensions (XMX) engines and even the hardware ray-tracing units. Like their discrete desktop counterparts, they support full AV1 encoding, high dynamic range (HDR), and Dolby Vision output support.
According to Intel, these new GPUs are "ideal for computer-aided design and modeling (CAD/CAM), AI inferencing tasks, and media processing in dedicated business environments," highlighting specific applications like Autodesk's 3ds Max, AutoCAD, and Maya.
The Intel Arc Pro A60 GPU is set to arrive first and will be available in the coming weeks, with the Pro A60M to launch in the coming months. No pricing has been made available, but based on the performance we've seen from the Arc range so far, there is no doubt they'll be affordable and budget-friendly workstation GPUs.