FSP, one of the early pioneers of PSUs in the computer industry, while at Computex 2023 in Taipei, Taiwan, has released a 2500-watt abomination of a PSU. This high-end PSU is more geared toward edge computing, server, and workstation environments. The Cannon Pro, model number FSP2500-52AGPBI, is a powerhouse of a PSU, which is why it's needed for such heavy workloads to ensure stability.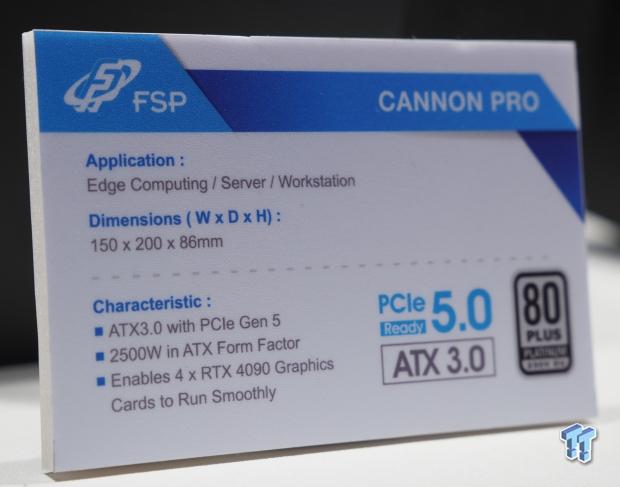 Coming in the ATX form factor, measuring 150 x 200 x 86mm, the Cannon Pro still is a big boi; however not much bigger than FSP's own Hydro PTM Pro 1650-watt. The most notable features include the 80 Plus Platinum certification, ATX 3.0 with PCIe Gen 5 support, which enables four of the latest power-hungry RTX 4090s GPUs to run smoothly without issue; this would also suggest that there are four 16-pin 12VHPWR connections to provide good clean stable power.
Typically up until now, only around 1600-watt PSUs were available due to many electrical system constraints. Still, somehow FSP has managed to find a way to bust through that issue leaving it wide open. Running a single 12V rail, the Cannon Pro delivers 2500 watts with a little over 208 amps; however, it is only recommended to run on 200 to 240-volt systems.
There is still no official word of pricing or an official release date, but it can't be cheap. Stay tuned for more information. Also, keep checking for more TweakTown coverage of Computex 2023 here in Taipei, Taiwan.