ZOTAC has walked me through the very impressive Zbox Pico mini PC, which features AirJet solid state active cooling.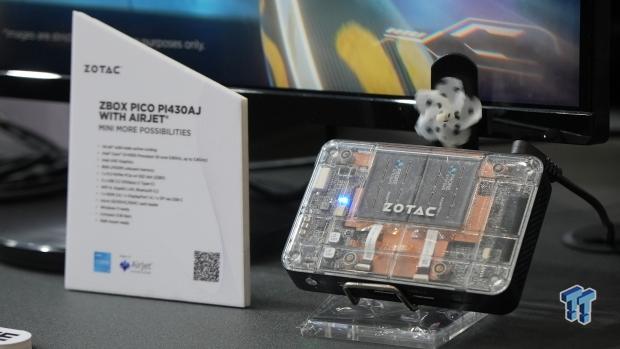 Computex 2023 has kicked off with a bang, and I was lucky enough to get a complete walkthrough of the ZOTAC booth, where I was introduced to the Zbox Pico, a palm-sized PC that features an impressive cooling solution. ZOTAC explained to me that typically in the past, its previous mini PC used Pentium or Celeron processors, while the newer model, as pictured above, is the first to feature an Intel Core i3 processor.
This upgrade in power can be attributed to the AirJet solid state active cooling, which is able to reduce the amount of heat produced and, thus, enabling a higher-end processor to be implemented. These solid state cooling chips are able to draw in air from the side, reducing the internal temperature of the mini-PC, and then spitting out the hot air through the other side out its exhaust, as displayed by the blurry fan shown above. ZOTAC explained to me that typically in the past, these systems would feature heat sinks, but since the emergence of solid state cooling chips, they are no longer necessary in this particular build.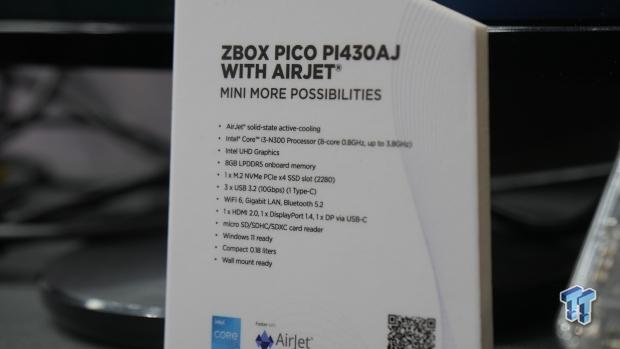 Notably, ZOTAC explained that the final unit won't be completely transparent as imaged above. Furthermore, the Zbox Pico mini PC features 8GB LPDDR5 onboard memory, 1x M.2 NVMe PCIe x4 SSD slot (2280), 3 x USB 3.2 (10Gbps) (1 Type-C), Wi-Fi 6, Gigabit LAN, Bluetooth 5.2, 1x HDMI 2.0, 1 x DisplayPort 1.4, 1 x DP via USB-C and a micro SD/SDHC/SDXC card reader.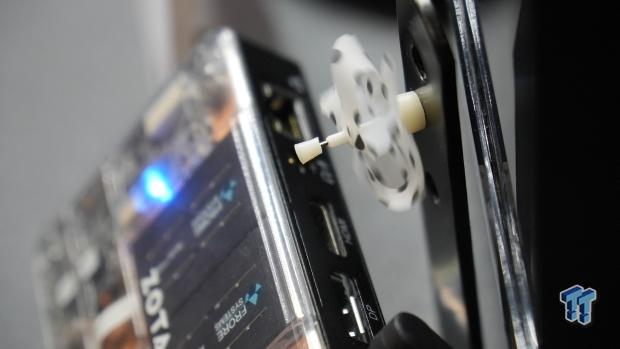 The Zbox Pico mini PC's typical usage will be display signage.