It wasn't long ago that Elon Musk sat down for an interview with Fox News to discuss various topics, one of which was the evolution of artificial intelligence and the company he originally founded, OpenAI.
The Tesla and SpaceX CEO sat down with Tucker Carlson about a month ago and shared his concerns about the exponential development of artificial intelligence, how it can develop bias, and his plan to create his own AI chatbot that will be dedicated to generating truthful responses. Throughout this interview, Musk was asked about the origin of OpenAI, a company that he originally founded with the principal of a non-profit dedicated to developing AI safety and transparently.
Musk said that since his departure from the company in 2018, many of its founding principles have been tossed out, such as OpenAI being a for-profit company, closed source, and being effectively bought by Microsoft. Musk said that OpenAI was created to be a "counter-weight to Google," and he admits that he "took my eye off the ball" as the company has now partnered with Microsoft, forming a relationship where Microsoft has a big say or even direct control over OpenAI. According to Musk, there are only two big players in the artificial intelligence game, Google and its AI division DeepMind, and now Microsoft and OpenAI.
In response to OpenAI joining with Microsoft and Musk being worried about the quality of AI products, massive technology companies such as Google and OpenAI can produce an alternative product or option that needs to be brought to market. Musk says he will create a third option for people that will be designed to find the highest truth.
Now, Microsoft CEO Satya Nadella has sat down with CNBC to discuss artificial intelligence developments, and during the interview, Nadella was asked for his thoughts on Musk's comments. Nadella replied by simply saying, "that's factually not correct", in response to Musk's comments about Microsoft effectively controlling OpenAI through its massive $10 billion investment.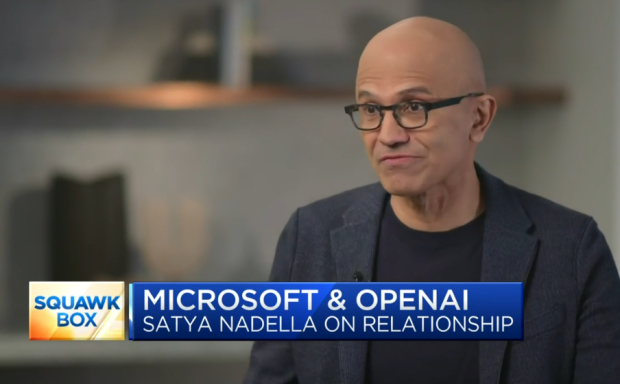 Nadella goes on to say that OpenAI is still very much grounded in it being controlled by a non-profit board and that Microsoft doesn't have a controlling interest in it. Furthermore, Nadella says that he's very comfortable partnering with OpenAI as it has a "capped profit," and its mission is to develop what he says will be and is a powerful technology. The Microsoft CEO also says that Microsoft is the first company to partner with a non-profit company that has a non-profit-controlling board.
In other AI news, Google's CEO has downplayed the risks of artificial intelligence-powered tools replacing thousands of jobs around the world. If you are interested in reading more about that story, check out the below link.