AMD ships triple-core Phenom processors
Only to OEM's at the moment.

Published Thu, Mar 13 2008 6:43 AM CDT
|
Updated Tue, Nov 3 2020 12:38 PM CST
As rumored recently, AMD has begun volume shipping of its triple-core Phenom processors, which is excellent news for the struggling chip firm who has not seen much success of late.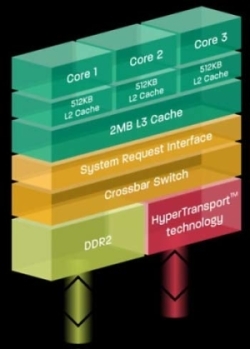 For us end-users though, don't get too excited. At this stage AMD is only shipping its Phenom 8400 (2.1GHz) and 8600 (2.3GHz) triple-core processors to OEM companies including Dell, HP and Mesh. At this it is a start for AMD who is in need of good things to happen rather soon.
Not only that but AMD also announced this week that it is finally shipping its TLB bug-free "B3" revision Opteron and Phenom quad-core processors to OEM's. It is claimed that they will hit retail stores sometime in early April. The sooner the better, to be honest.
You can read the rest of the story over at
Engaget
who has links to products from the OEM's using AMD's latest processors.