Have you noticed a recent trend regarding the Steam store page for games that the media section would be full of videos and trailers, and you'd have to scroll to see screenshots?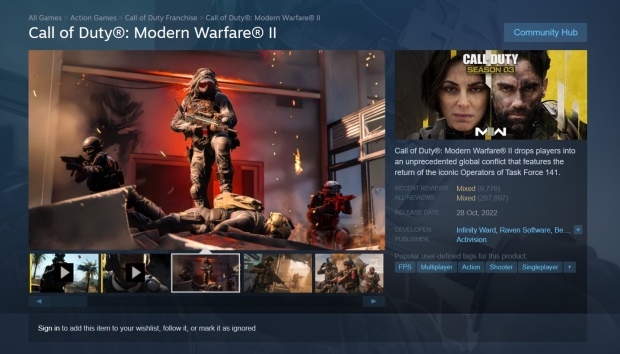 Well, the good news is that Valve has, too, with a new update to Steam for developers now limiting the presentation to a maximum of two trailers before screenshots.
"Starting today, a maximum of two trailers can appear in the row of thumbnails to the left of screenshots," Valve writes in the update. "Any remaining trailers will be displayed after the screenshots, resulting in a default view for players that always has a mix of screenshots and trailers in view."
Developers can still add additional trailers, videos, and developer deep dives to the store pages, but any additional videos will be placed after screenshots. The order and prominence of trailers can be specified on the 'Edit Store Page' section of Steamworks, with the additional feature to select categories for videos and trailers as follows.
General / Cinematic - Most trailers fall into this category; these typically show a mix of pre-rendered video, logos, title screens, accolades, and maybe some limited amount of gameplay.
Teaser - A short video, often posted when a game is first announced, often doesn't show much of the game but instead teases the title, IP, or franchise.
Gameplay - When a trailer is mostly comprised of gameplay, showing the user what it's like to play the game and from the perspective that the player will be playing.
Interview / Dev Diary - Non-fiction interview or documentary video.
"We have found that it wasn't clear to developers how best to manage trailers in order to provide the best experience for players," Valve adds. "Many games have collected a great number of trailers over their lifetime of development and have made it harder for prospective customers to find the screenshots. At the same time, we know that players are interested in understanding a little more about the trailers they are watching. This update is intended to address both of these issues and help players more quickly learn about games they are interested in."
This is a simple and welcome change, as it will make each store page follow a similar design, presentation, and layout. For Early Access titles that release multiple updates and videos, this update will make it easier for new customers to get a better sense of what's new and how the game looks.