Quarterly reports and financial documents for large tech companies are often a mix of numbers and figures that require digging to find some of the most interesting takeaways. And that's still certainly the case with AMD's latest Q1 2023 financial results, but with the current state of the PC market, it's hard not to see the historic operating loss of USD 145 million as a cause for concern.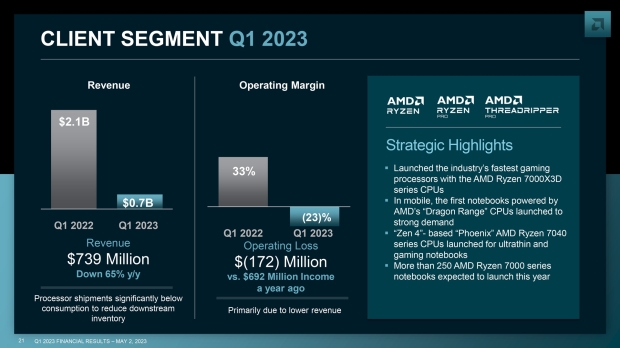 Especially when you compare that to the last year's operating income of USD 951 million, making it a 115% decrease and the first overall loss for AMD in years. As AMD's business encompasses several sectors, the Client Segment covering AMD Ryzen products looks to have seen the most notable decline, with revenue down 65% year on year, from over USD 2 billion to USD 700 million.
This segment alone reported an operating loss of USD 172 million, a stark contrast to the rapid growth seen in the Embedded Segment, which saw massive growth with revenue up 163%. This is reflected in the following statement from AMD Chair and CEO Dr. Lisa Su, who notes that AMD will prioritize its data center and embedded portfolio.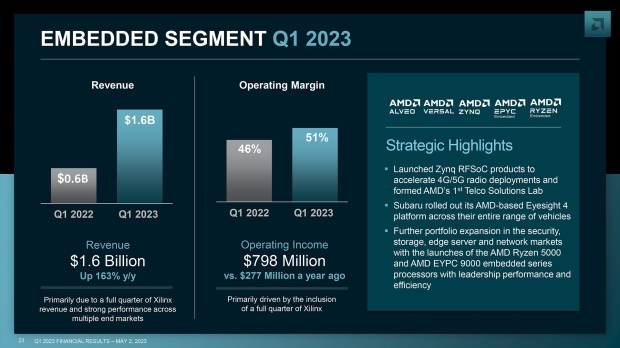 "We executed very well in the first quarter as we delivered better than expected revenue and earnings in a mixed-demand environment," said Lisa Su. "We launched multiple leadership products and made significant progress accelerating our AI roadmap and customer engagements in the quarter. Longer-term, we see significant growth opportunities as we successfully deliver our roadmaps, execute our strategic data center and embedded priorities and accelerate the adoption of our AI portfolio."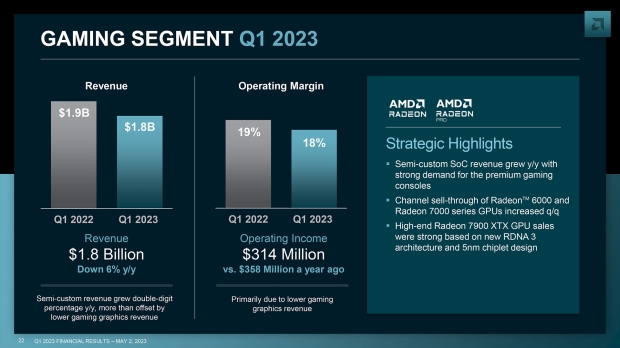 Where it gets interesting is the gaming segment, which sees AMD performing rather well thanks to the continued success of the PlayStation 5 - which helped margins remain consistent with 2022's figures. Interestingly AMD specifies that sales for Radeon for the quarter have increased over the previous quarter thanks to the strength of the Radeon RX 7900 XTX and the continued sell-through of existing Radeon RX 6000 GPUs being sold at a discount.
Lisa Su also confirmed that new RDNA 3 GPUs are coming this quarter - plural.
"Semi-custom SoC revenue grew year-over-year as demand for premium consoles remain strong following the holiday cycle," said Lisa Su. "In gaming graphics channels, sell-through of Radeon RX 6000 and Radeon RX 7000 series GPUs increased sequentially. We saw strong sales of our high-end Radeon RX 7900 XTX GPUs in the first quarter, and we are on track to expand our RDNA 3 GPU portfolio with the launch of new mainstream Radeon RX 7000- series GPUs this quarter."
It'll be interesting to see how that pans out for future earnings and if the PC market for CPUs bounces back in the months to come.