The Acer Predator X34 was one of the first high-end gaming monitors to put ultrawide gaming on the map, with an IPS panel and a resolution of 3,440 x 1,440. The latest model due for release in November 2023, the Acer Predator X34 V, will see the premium gaming monitor from Acer embrace OLED.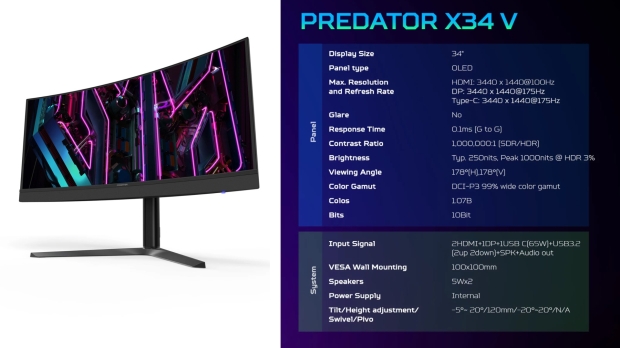 The rise of OLED has been a long time in the gaming monitor space, with high-refresh-rate models from several display makers leaning into the unmatched contrast and image clarity the display tech can deliver. 2023 will see several OLED releases explicitly built for gaming from ASUS, LG, Alienware, MSI, and more - and it's not hard to see why.
Acer Predator X34 V sports a 10-bit 344-inch OLED panel with a resolution of 3,440 x 1,440 pixels and a curvature of 1800R. Acer notes that the typical peak brightness is 250 nits, with the HDR peak brightness reaching 1,000 nits.
The new Predator will benefit from OLED technology's impressive instantaneous response times with a 0.1ms GtG on offer alongside AMD FreeSync Premium support. Interestingly, even though the display is rated at 165 Hz, the two HDMI ports look limited to HDMI 2.0 spec, which tops out at 100 Hz. A strange choice, especially when the USB-C port can output a signal at 175 Hz.
Color-wise, the display is rated 99% of the DCI-P3 color space, which would make it an excellent choice for cinematic gaming. Acer Predator X34 V is set to launch this November with a price point of €1,299 or USD 1424.