Intel's XeSS upscaling tech - the rival to NVIDIA's DLSS and AMD's FSR frame rate boosters - is now supported by Cyberpunk 2077, and the result is a massive performance boost.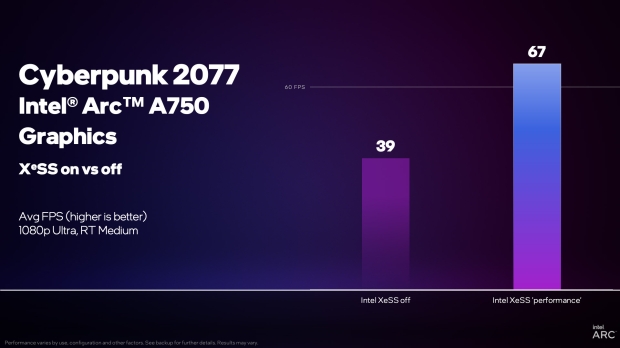 According to Intel's blog post trumpeting CD Projekt Red introducing XeSS with Cyberpunk 2077, turning the feature on generates up to a 71% boost in frames per second (fps), meaning the Arc A750 can now exceed 60 fps, regarded by many as the magic threshold for smooth gameplay.
To be precise, the A750 hits 67 fps compared to 31 fps with the feature turned off, and unsurprisingly, this is with XeSS in 'performance' mode (as opposed to the settings at the other end of the spectrum for better upscaling quality). This is with Cyberpunk 2077 at 1080p resolution with ultra details and ray tracing set to medium.
The A750 GPU was in a PC powered by an Intel Core i9-13900K processor, which also had 32GB of RAM.
It's a good day for XeSS, as the feature has also been upgraded with Death Stranding Director's Cut, with the game now running XeSS 1.1. This means better performance and higher quality with the visuals, so it's a double whammy of improvements.
This is just the latest in some impressive strides forward that Intel is taking with its Arc graphics cards of late. We recently had a new beta graphics driver release that brought in a vast fps increase for the Dead Space Remake, and some useful advances for Dying Light 2 among other games.
The Arc graphics driver are pretty consistently being upped in terms of stability and performance, which is great to see in terms of Intel being a stronger third horse in the GPU world. Particularly when performance is being increased - in big leaps, in some cases - while prices have been dropping to make for a much more tempting overall value proposition.