Ubisoft+ is finally coming to Xbox consoles, but it's not a part of Xbox Game Pass Ultimate and the price is kind of steep.
Ubisoft recently announced that its premium Ubisoft+ subscription service is now available on Xbox consoles. There's just a few caveats: Gamers will have to pay $17.99/month for the multi-access Ubisoft+ package to play games on Xbox, and the list of included games is not as big as Ubisoft+ on PC. Sign up or learn more about the Ubisoft+ subscription here.
Xbox gamers will be able to play 65 games as part of the Ubisoft+ subscription, compared to the 164 games offered on PC. The good thing is that multi-access subscribers can play on both Xbox and PC, and all of the popular staples are available on Xbox including all Far Cry games from Far Cry 3 onward and all Assassin's Creed games a well.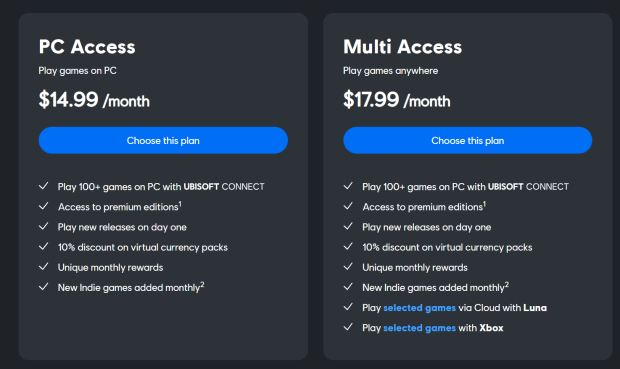 On a surface level, Ubisoft+ seems to be a great deal if you love the publisher's games. Paying $18 to access Ubisoft's best games in an all-you-can-play, complete format is a steal, and subscribers will also get to access every piece of DLC content as well as play all new Ubisoft games day-and-date of release.
The only real issue is the relative price as compared to competitors. Ubisoft+ at $18 seems pretty steep considering Xbox Game Pass is $15 a month and offers access to over 400 games across PC, consoles, and even mobiles. Sony's PlayStation Plus Extra is also priced at $15 a month and includes access to a ton of PS4 and PS5 games.
It's worth remembering that Ubisoft+ is not as important to Ubisoft as Xbox Game Pass is to Microsoft. Ubisoft has not built its business model around value-added services and any subscription earnings from Ubi+ are entirely secondary to the publisher's main goal of selling games and recurring monetization via in-game purchases.