Cyberpunk 2077's new Ray Tracing: Overdrive Mode is set to be released in technology preview form on April 11. It brings full path tracing to one of the most technically impressive and advanced games for PC.
Path tracing or full ray tracing can already be seen in NVIDIA's own Portal with RTX mod, where essentially all lighting effects, including global illumination, shadows, direct and indirect light sources, and shadows, are all path traced. As expected, it's incredibly taxing on PC hardware.
Check out this new look at Cyberpunk 2077 with full path tracing in the trailer above, captured with a GeForce RTX 4090 with DLSS 3 enabled.
"Full ray tracing accurately simulates light throughout an entire scene," writes NVIDIA. "It is used by visual effects artists to create film and TV graphics that are indistinguishable from reality." And that's the best way to describe the RTX On visuals we see in this new video, it all looks like footage from a film or high-quality TV production.
NVIDIA has provided more details about creating the Ray Tracing: Overdrive Mode, noting that Cyberpunk 2077's day-night cycle led to creating a single algorithm for Global Illumination (GI), reflections, and ambient occlusion. In the case of ray-traced reflections, which are already present in the game, the new RT mode makes these full resolution which adds to the realism.
Here's a look at the more streamlined pipeline developed for Cyberpunk 2077's Ray Tracing: Overdrive Mode compared to the game's existing (and still stunning) ray-tracing effects.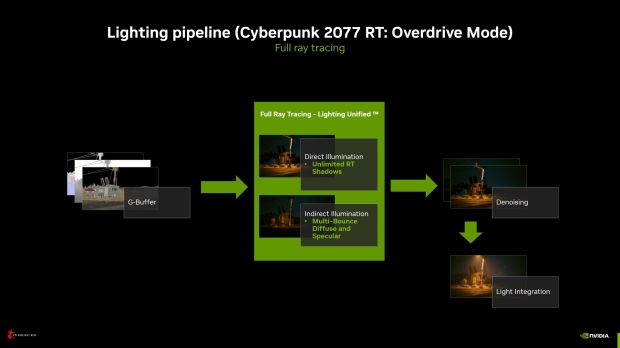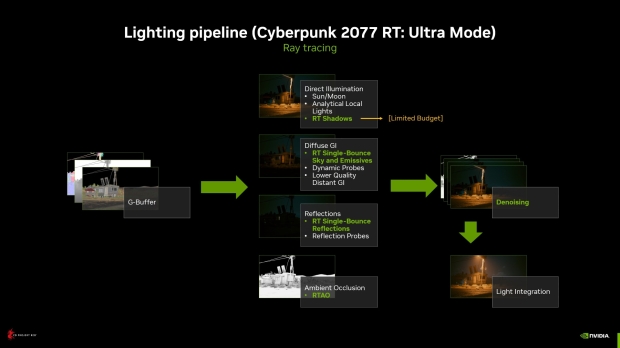 "Combined, the full ray tracing of direct and global illumination give gamers the most advanced real-time lighting seen to date in gaming, and a preview of how all games will look in the future," NVIDIA adds. "To bring these incredible effects to life, at performant frame rates, CD PROJEKT RED and NVIDIA have worked hand in hand to introduce new optimizations for this entirely new fully ray-traced pipeline."
In addition to DLSS 3 and Frame Generation being a requirement for a stable frame rate, NVIDIA technologies like Shader Execution Reordering (SER), Real-Time Denoisers (NRD), and RTX Direct Illumination (RTXDI) are all being leveraged here. And with that, NVIDIA will continue to work with CD Projekt RED for further enhancements, bug fixes, and performance optimizations.
Here are a few comparison shots, with the second indoor shot, in particular, showcasing the impressive cinematic quality of RTGI.