Researchers have created a new map of Mars that shows off the Red Planet's geological features in incredible detail.
The new Martian map was created using data obtained by the Emirates Mars Mission (EMM), also known as Hope, operated by the United Arab Emirates (UAE) Space Agency. UAE researchers teamed up with scientists from New York University Abu Dhabi to create the map, which showcases what EMM's onboard imaging system called the Emirates Exploration Imager (EXI), sees while it orbits the Red Planet. The map consists of more than 3,000 individual observations of Mars that were snapped over the course of one Mars year, which is two years on Earth.
These thousands of images were then carefully stitched together by researchers, color corrected, and polished. The final resulting map, as seen below, showcases many of Mars' sought-after geological features, such as the remnants of ancient river systems coursing across the Martian surface, lakes that have long since dried up in the harsh climate but may contain traces of ancient microbial life, valleys that likely contained water some 3.5 billion years ago, and the planet's polar ice caps.
So, how does this map help further research? As with all maps, they are useful for planning ahead, and that is what scientists plan to do with this map. The UAE's new Mars map will enable planetary scientists to gain more in-depth knowledge about the climate of Mars and how it has changed over the billions of years of its existence. On a smaller scale, the Mars map will be used to better understand the weather systems present on Mars, as well as its seasonal changes, which will be useful information for NASA and other space agencies that are planning on landing astronauts on its surface to set up a Mars base.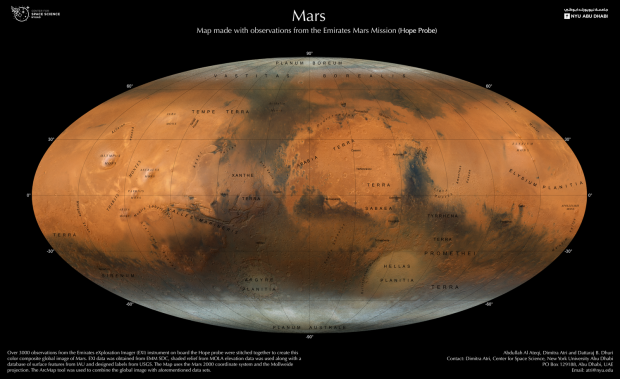 Some notable geological features on the Mars map are the craters leftover from past asteroid impacts. The map capturing all of these craters allows researchers to study the distribution across the planet and, from that gain an understanding of the planet's history of asteroid impacts. Furthermore, planetary researchers will be able to derive more information about the evolution of Mars and how early asteroid impacts affected the end result of Mars or what we are now observing today.
In other news, an AI has put everyone at risk by scraping 30 billion photographs of people from Facebook and then giving access to US authorities that are using it for facial recognition and identification purposes. Digital privacy protection agencies across the US have condemned the software and called for its banning.