AMD has officially launched its new entry-level A620 chipset for Ryzen 7000 processors, with models from ASRock, ASUS, MSI, and others making their way to market with pricing starting at USD 85.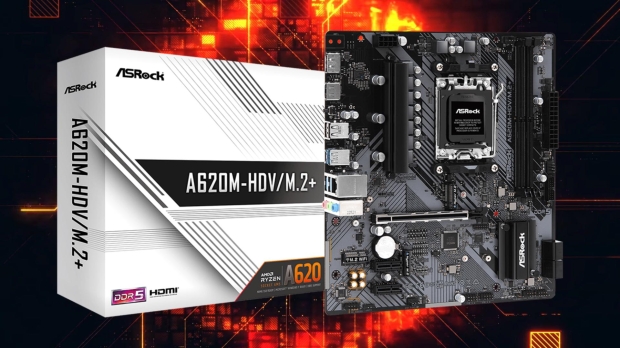 Before the official release, early looks at models from motherboard partners like ASRock and MSI have detailed that going entry-level for AM5 means no overclocking for CPUs, so no Precision Boost Overdrive and Auto-OC. We've also got confirmation that A620 motherboards will only fully support Ryzen 7000 non-X CPUs with a TDP of 65W.
To keep costs down, the VRMs of these boards have been designed for 65W though AMD notes that Ryzen 7000 CPUs with higher TDPs will boot if the BIOS' AGESA version supports them. Even so, multithreaded performance will be limited, but AMD expects that this will have minimal impact on game performance.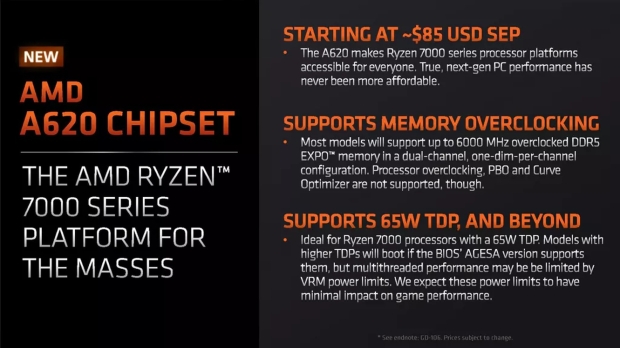 The Ryzen 7000 CPUs with higher TDPs are expected to perform similarly to how they perform on B650/X670 motherboard running in Eco Mode - which limits TDP to 65W. A620 boards also lose out on PCIe Gen 5 capabilities for storage and graphics, though they retain AMD and the AM5 platform's shift to DDR5 memory.
Models are already online at Newegg, with the ASRock A620M-HDV/M.2 AM5 Micro-ATX Motherboard available in two variants, priced at USD 85.99 limited to 65W CPUs and one for USD 99.99 that supports 120W CPUs. It could be the go if you're looking for a motherboard that pairs well with the non-X AMD Ryzen 5 7600. However, your CPU options are limited.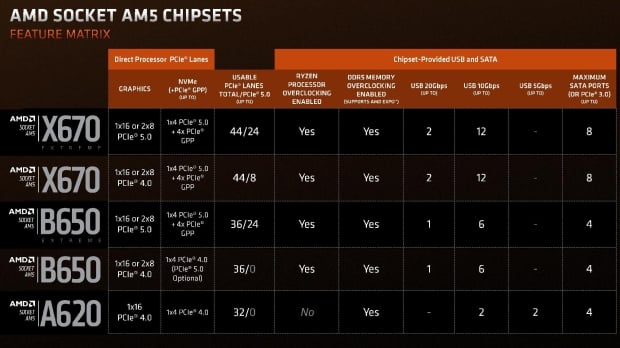 Interestingly the A620 boards use the same Prominitory 21 (PROM21) chipset, which is the same for AMD's X670 and B650 motherboards - the latter seen as the best option for mid-range and high-end gaming.