A team of security researchers found a slew of vulnerabilities within Tesla's that give them control over a few different parts of the vehicle.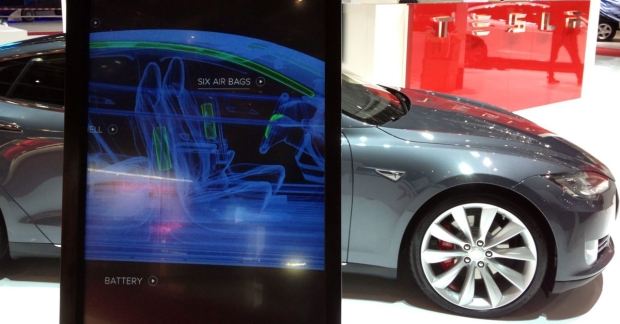 The security researchers work for Synacktiv, a security research firm that supported the team presenting their findings at the Pwn2Own conference in Vancouver last week. The researchers explained that a string of three vulnerabilities within the software allowed them to take control system to turn off the car lights, honk the horn, open the trunk, activate the windshield wipers, and play with the infotainment system.
Notably, the researchers explained the first security vulnerability was discovered in the vehicle's Bluetooth settings, and the second vulnerability gave the hackers enough vulnerability to become root, or in layman's terms, obtain the highest level of administrative access to the system. Once the security researchers gained root access, they were able to execute code in the infotainment system that gave them control of the security gateway, a component that sends specific commands to the vehicle.
It should be noted that these security researchers are known as white hats, people that are deliberately prodding software in an attempt to find security vulnerabilities that they then inform the developers of. According to the researchers, Tesla informed them that the discovered exploits wouldn't lead to hackers taking control of vital components such as the steering wheel, accelerator, or brakes, but the security research team doesn't necessarily believe that to be completely true.
"[Tesla] said we wouldn't be able to turn the steering wheel, accelerate or brake. But from our understanding of the car architecture we are not sure that this is correct, but we don't have proof of it," said Eloi Benoist-Vanderbeken, one of the security researchers
According to the team and their understanding of the vehicle's architecture, they cannot say Tesla's statement is factual, nor can they prove that it isn't, as they have no evidence to suggest otherwise besides the vulnerabilities they have already discovered.
Regardless, the team explains that Tesla is making its vehicles very difficult to hack through the implementation of a system of sandboxes, which separates components from other components on a software level. By doing this, Tesla developers make it much more difficult for hackers to take complete control of the vehicle, as advanced administrator privileges are locked behind various specific components.
Furthermore, the researchers said that Tesla is currently working on software updates for each of the security vulnerabilities and that these updates will be rolled out promptly.
In other news, NASA and the European Space Agency's Hubble Space Telescope has snapped a new image of the gorgeous Messier 55, a globular cluster that's located approximately 17,000 light-years away from Earth. If you are interested in reading more about that story, check out the link below.