Cheap AM5 motherboards are right around the corner, with the entry-level A620 boards for Ryzen 7000 CPUs set to launch soon. And we might be seeing prices drop below the USD 100 barrier, making them excellent options for budget-conscious gamers putting together a new build.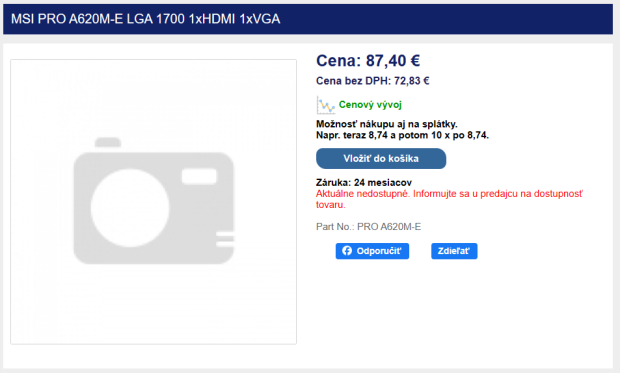 Two overseas (or local, depending on where you're reading this) retailers have listed the new MSI Pro A620M-E motherboard - Polish site BuyIT and the Slovakian-based Edis Computers. The listings arrive via @Momomo_US.
With the price conversion to USD, you're looking at roughly $80 for the budget AM5 motherboard. No images or details for the MSI Pro A620M-E motherboard were listed, so we can only speculate based on our knowledge.
Even though the more affordable B650 range of motherboards is currently available, compared to the high-end X670 range, the new A620 range will feature a reduced feature set and capabilities to hit the lower price point. No CPU overclocking due to modest power delivery alongside basic connectivity (2 x USB 3.2 Gen 1 ports and 6 x USB 2.0 ports).
Yesterday we got our first look at an ASRock A620 motherboard (A620M-HDV/M.2), where we learned that, as per AMD's specifications, the range wouldn't feature support for PCIe Gen5 devices. This includes storage and graphics cards, though the latter is a non-issue as AMD's Radeon RX 7000 Series and NVIDIA's GeForce RTX 40 Series are PCIe Gen4.
Still, as the new AM5 platform does not support DDR4 memory, the new A620 motherboard will follow suit and be limited to the latest DDR5 spec. As we reported yesterday, the good news is that 2023 has seen DDR5 prices drop significantly, which is expected to continue as more options become available.
With these new retail listings and prices for A620 motherboards, the rumors of an April 2023 launch looks like a distinct possibility.