The ASUS GeForce RTX 4080 Noctua Edition graphics card is the latest collaboration between ASUS and Noctua. The graphics card uses impressive Noctua fans and a revamped heatsink design to improve cooling and offer some quiet high-end gaming.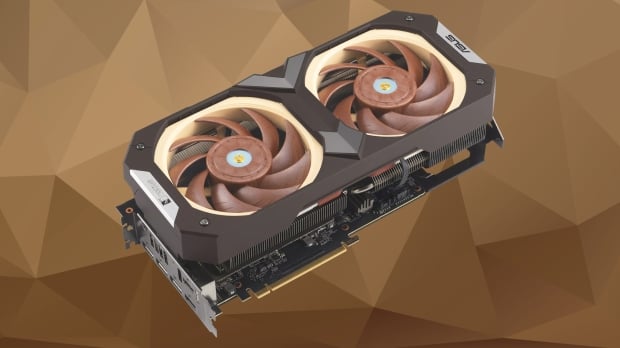 Most modern GPUs, especially GeForce RTX 4080 cards, use three slim 110mm fans - the ASUS GeForce RTX 4080 Noctua Edition includes two Noctua NF-A12x25 PWM 120mm fans with that classic Noctua brown look. According to Noctua, the heatsink for the RTX 4080 Noctua Edition has been redesigned from the ground up compared to the RTX 3070 and RTX 3080 Noctua Edition cards.
In addition to five as opposed to two 8mm heat pipes, a vapor chamber is added for "significantly better cooling performance than the original TUF Gaming GeForce RTX 4080." And it's here where the price point for this custom RTX 4080 comes into play, with the ASUS GeForce RTX 4080 Noctua Edition being sold for USD 1649 versus the TUF RTX 4080's MSRP price point of USD 1199.
Adding Noctua fans means that overall fan speeds are slower and quieter, which Noctua claims makes the card quieter than "any other air-cooled card in its class." With medium fan speeds and around the same temperature as standard RTX 4080 air-cooling, the RTX 4080 Noctua Edition runs 16.8 dB quieter - which is impressive.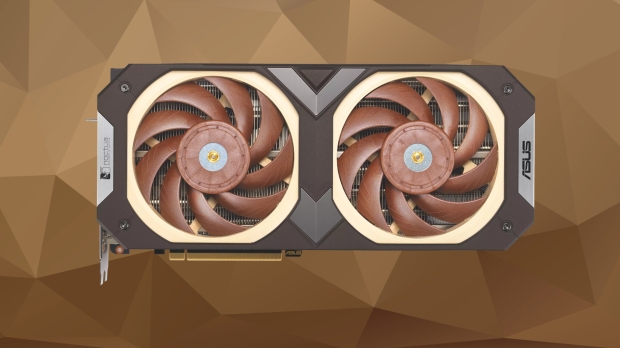 The fans switch off completely when the GPU temperature drops below 50 degrees.
The ASUS GeForce RTX 4080 Noctua Edition features a dual BIOS to switch between a performance and a quiet profile - with the latter enabled by default. Of course, with ASUS GPU Tweak III software, the fan curve can be tweaked, and the GPU undervolted to make the card run even quieter.
There is a catch, though, or one thing to note. With dimensions of 310 x 144.8 x 87.5 mm, the ASUS GeForce RTX 4080 Noctua Edition is a 4.3-slot beast.