In a new interview with Japanese publication ITMedia (translated via Google), AMD EVP Rick Bergman and AMD Senior VP David Wang open up about why AMD didn't launch an RDNA 3 GPU to compete directly with NVIDIA's flagship GeForce RTX 4090.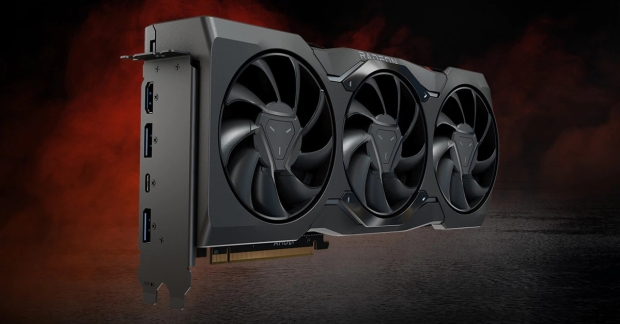 The duo notes that it would have been possible to release a Radeon RX 7000 GPU with specs and performance that could compete with NVIDIA on the high-end, but this would push power to the 600W region. Not to mention raise the price to similar RTX 4090-like levels of USD 1600.
"We have chosen not to adopt such a strategy after considering whether it will be accepted by ordinary PC gaming fans," AMD's Rick Bergman says (translated).
It's an interesting thought experiment but also one that seems flawed. Ahead of the GeForce RTX 4090's launch, there was a lot of talk about how much power NVIDIA's flagship GPU would draw, with some expecting the 600W mentioned here.
Of course, the RTX 4090 launched with a TGP rating of 450W - but even that proved to be only for extreme cases. NVIDIA's Ada-based GeForce RTX 40 Series is incredibly power efficient. In our testing of the GeForce RTX 4090 Founders Edition - compared to the ASUS TUF Radeon RX 7900 XTX OC Edition in 4K gaming - power usage was roughly the same.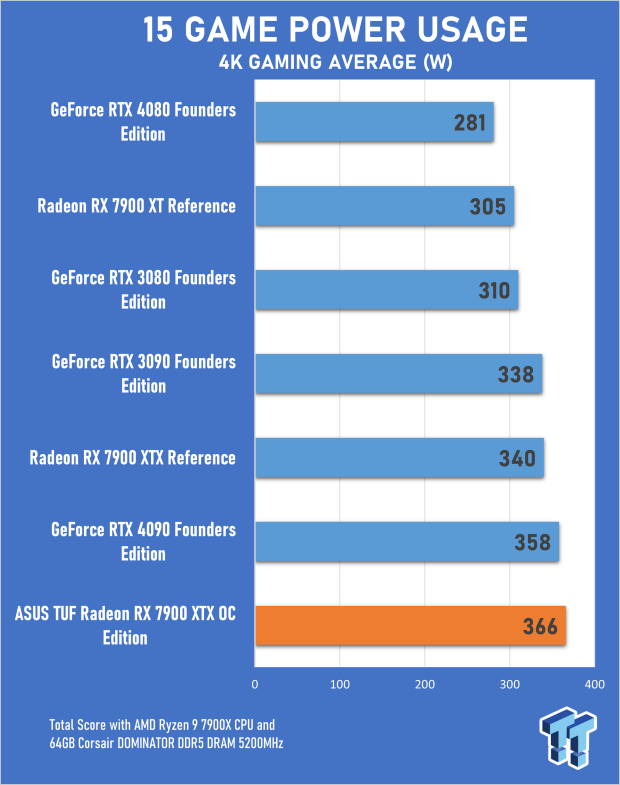 Granted, that was for an OC model, but it doesn't paint a great picture of RDNA 3 power efficiency compared to Ada. Regarding the flagship Radeon RX 7900 XTX reveal, AMD positioned its new RDNA 3 flagship as a more cost-effective GeForce RTX 4080 competitor. And even though the performance is impressive for the Radeon RX 7900 XTX compared to the GeForce RTX 4080 - NVIDIA has a clear efficiency advantage this generation. This might be why it was able to launch a flagship like the GeForce RTX 4090 in the first place.
Even so, AMD is correct in pointing out that you're looking at a USD 600 difference between its flagship Radeon RX 7900 XTX and the GeForce RTX 4090. The Radeon RX 7900 XTX's USD 999 could be the absolute limit AMD has set for consumer GPUs.
"We are focusing on GPUs that balance performance and cost and fit within the $1000 class," AMD's Rick Bergman adds (translated). And with the new Radeon GPUs using a groundbreaking chiplet design to reduce manufacturing costs, no doubt this will continue in the lead-up to RDNA 4 in 2024. On that note, AMD also states that it expects more big gains regarding ray-tracing (RDNA 3 presents a giant leap over RDNA 2) - with the company spending a lot of time creating new tools and processes to improve RT performance in the future.