The Grand Theft Auto franchise has made over $8 billion in revenues since GTA V's release in 2013, new Take-Two Interactive SEC filings indicate.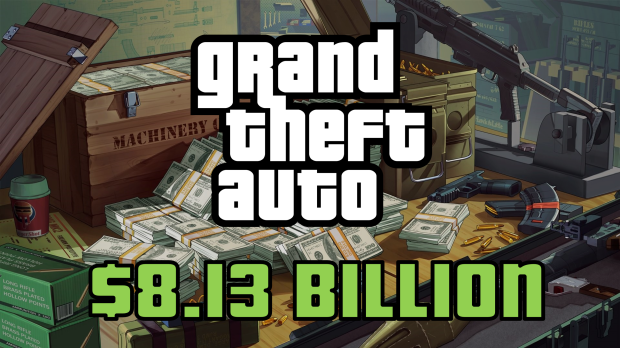 Every quarter, publisher Take-Two Interactive releases GTA earnings figures that give us an idea of how well the franchise is performing.
According to Take-Two's latest 10-Q SEC filing, the Grand Theft Auto franchise has made over $8.13 billion in revenues since the release of GTA V in 2013 to December 2022.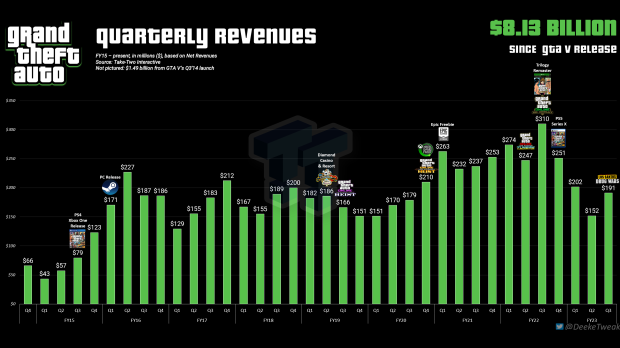 The filing shows that Grand Theft Auto products made 15% of total nine-month net revenues for FY23, which amounts to $585.55 million. On a quarterly basis, we've determined that GTA titles made $191.203 million in Q3 FY23 and comprised 13.58% of total quarterly net revenues for the period.
This was not a fantastic quarter for Grand Theft Auto and Take-Two Chief Financial Officer Lainie Goldstein notes that "our other titles were a bit lower than what we had expected," with PC and console recurrent consumer spending (aka microtransaction spending) missing company expectations.
These earnings are a combination of full game sales of GTA V and the more recent GTA trilogy remaster, as well as GTA Online microtransactions. Remember this figures refer to net revenues and not net bookings, which means that the full amount of GTA Online revenues are not recognized.
Take-Two Interactive management forecasts Rockstar Games to make up 17% of its annual fiscal year net bookings, or about $892 million. The two largest contributors to net bookings are expected to be NBA 2K, GTA Online and Grand Theft Auto V.