Steam Local Network Game Transfers is a fantastic new feature available as part of the latest Steam Client Beta, and as per its naming, it allows for the transfer of games between PCs on the same local area network. It even works for game updates, so only one PC needs to update the game before transferring it to other hardware, including the Steam Deck.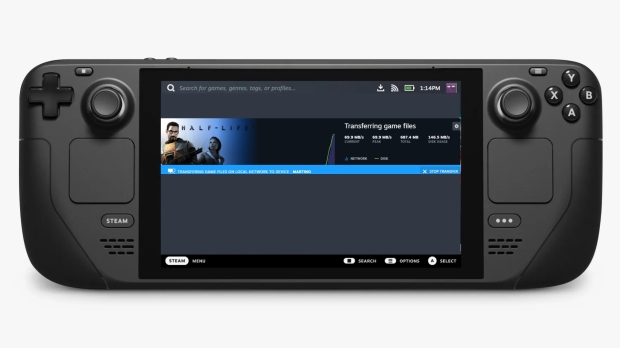 Of course, this is an awesome feature for Valve's portable PC because you can use your primary gaming PC to set up your Steam Deck library without downloading every game repeatedly. This is a significant improvement over the previous manual method of backing up Steam libraries to an external storage device and then using that to get games onto a different PC. As someone who benchmarks titles and keeps Steam libraries on multiple drives, updating games on all devices becomes tiresome, so this is very cool.
As per Valve's official description, copying files will take up system resources to maximize throughput.
Once a game is installed on one PC, all other PCs or the Steam Deck can install or update that game by transferring files directly from that one PC. A modern PC can easily transfer game content with 100MB/sec, and during the transfer the Steam client sending content will generate disk and CPU load (ie, you probably wouldn't want to be doing any intensive tasks on this PC during the transfer).
Valve also notes that if there's an issue with the transfer or it's interrupted, Steam will fall back to public servers to download the rest of the installation or update. Regarding limitations, Steam needs to be in Desktop Mode for the feature to work, so it's not supported in Big Picture Mode.