Officials reported a major solar flare occurring on the sun on Saturday, February 11. NASA's Solar Dynamics Observatory captured video footage of the event.
The National Oceanic and Atmospheric Administration (NOAA) reported that the flare was a powerful X1.1-class flare that caused the administration to issue a warranted radio blackout warning. According to NOAA, the flare did cause a radio blackout for a few different regions around Earth, specifically South America being hit the hardest. Notably, the flare can be traced back to Active Region 3217, which is expected to produce more activity as it moves across the sun's surface, according to what NOAA has written on its website.
It should be noted that the sun can produce various solar flares ranging in power. The lowest-power solar flares are A-class, and the strongest are X-class flares. The most powerful solar flare ever recorded occurred in 2003 and registered as X28 before the instruments that were measuring it reached their total capabilities. While not always the case, a solar flare is closely associated with ejections of large quantities of solar plasma.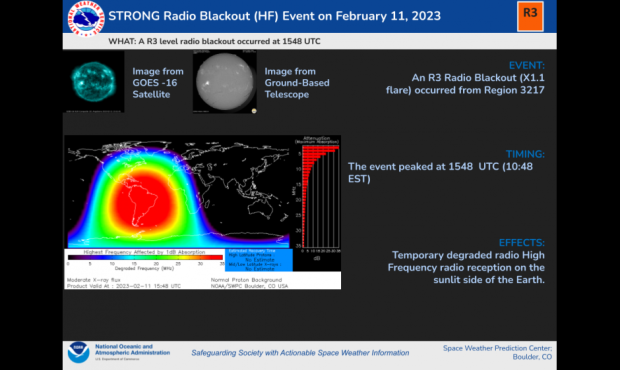 These waves of charged particles are called coronal mass ejections (CME), and when they are ejected toward Earth, they impact our planet's magnetic field causing gorgeous auroras to appear near the planet's poles. A CME was detected shortly after the massive solar flare, but according to reports, it wasn't associated with the X1.1 flare. Spaceweather reports the CME came from a solar filament eruption in the sun's northern hemisphere. This CME is expected to hit Earth on February 14.