A group of scientists has discovered rings around an object that resides in the frozen debris region beyond Neptune and Pluto.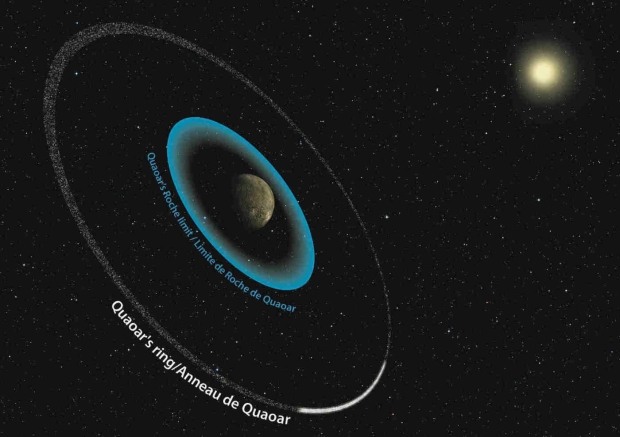 Researchers have published their findings in the scientific journal Nature and explain that using the world's largest optical telescope, the 34-foot-wide Gran Telescopio CANARIAS in the Canary Islands, Spain, to hone in on a dwarf planet called Quaoar. This dwarf planet doesn't meet the specifications to make it a full planet, but it does feature something special - rings, much like Saturn.
The report states that astronomers before this discovery didn't believe that rings could exist at such great distances from their host celestial bodies, especially small celestial bodies such as Quaoar. The small dwarf planet is approximately four billion miles away from Earth and is only 690 miles in diameter, making it half the size of Pluto, another dwarf planet.
"Everyone learns about Saturn's magnificent rings when they're a child, so hopefully this new finding will provide further insight into how they came to be," Vik Dhillon, one of the study's authors and a scientist at the University of Sheffield's Department of Physics and Astronomy.
The team of astronomers equipped a specialized camera called HiPERCAM to the Gran Telescopio CANARIAS, and as Quaoar transited through space, the camera detected light from distant stars the dwarf planet was passing in front of. The researchers detected two "dips in light," which is "indicative of a ring system around Quaoar."
If you are interested in reading more space news, check out the metallic object that NASA's Curiosity rover found while exploring the surface of Mars.