The Switch is still going strong after seven years of sales and Nintendo plans to keep momentum going by accelerating hardware production.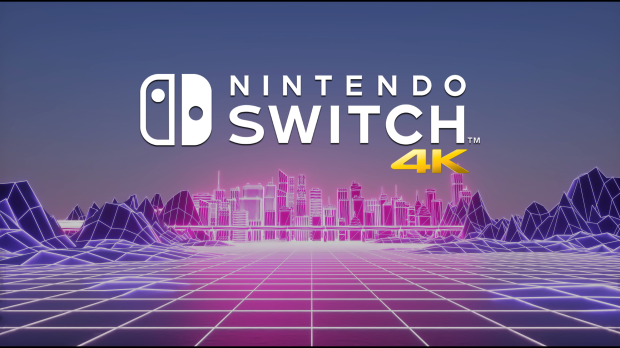 Nintendo's Switch platform has been incredibly lucrative. The system has shipped over 114 million units and has already likely beaten the PlayStation 4's and the Game Boy's lifetime shipments throughout holiday 2022. Nintendo has made $62.26 billion from Switch hardware, software, and subscription sales so far and some of the company's best-selling games have been on the Switch itself.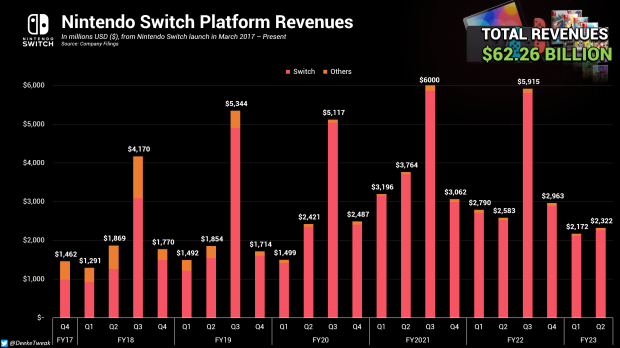 With numbers like these it's no surprise that Nintendo would want to keep the Switch's strong sales going for as long as possible. But how long can Nintendo ride the wave?
There have been reports of Switch sales stagnation. Lockdown spending is over yet Nintendo's overall sales and profits are still higher than pre-pandemic levels, and Switch shipments have dipped slightly below pre-pandemic levels. Nintendo shipped 6.68 million Switch systems in Q1-Q2, down quite a bit from last year's 8.25 million figure, but only down slightly from the 6.93 million units sold during Fiscal Year 2020 which coincided with the onset of COVID-19 lockdowns.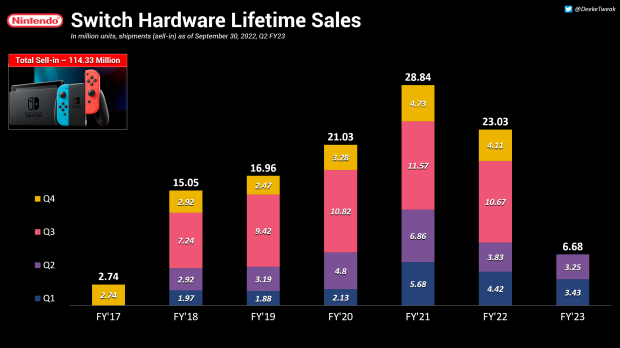 Nintendo has responded to the drop in shipments by lowering its Switch sell-in target to 19 million for this fiscal year.
It's hard to say how well the Switch has done before we get holiday Q3 numbers and those will be provided in Nintendo's earnings report next month. If Nintendo hits its shipment target, the Switch will have shipped 126.65 million units by the end of March 2023. It will become Nintendo's second best-selling system of all time, second only to the DS' mighty 154 million units shipped.
Now sources have told Bloomberg that Nintendo is ramping up Switch production. The belief is Nintendo is preparing a fusillade of systems for a kind of final send off for the platform.
Read Also: Analyst: Next-gen Switch Pro 4K model coming in 2024, not in 2022
Remember that Nintendo is likely preparing an upgraded Switch model that utilizes NVIDIA's newly upgraded Tegra processors.
The consensus among tech journalists is that the new upgraded Switch will utilize NVIDIA's new Orin SoC with Ampere GPU technology. The belief is that the next-gen Switch will be capable of 4K gaming thanks to NVIDIA's DLSS technology--which is supported by the fact that the Switch OLED model comes with a special dock capable of outputting 4K 60FPS visuals and performance. The current Switch's Tegra X1 processor however is not capable of such gaming performance.
Back in 2021, NVIDIA was able to get DLSS working on ARM-based processors. These are the same kinds of processors used in the Nintendo Switch.
There's also reports that Nintendo was planning its own PS4 Pro-style mid-cycle refresh for the Switch, which could have been evidence by the OLED's upgraded dock,. but this system was apparently cancelled in favor of a true next-generation model.
The shipment acceleration could also signify Nintendo's confidence in a cross-generation strategy between the current-generation Switch family and the new upcoming Super Switch (or Switch 4K, if you prefer). I've said that backwards compatibility is the most important feature of any new-gen system, and we've seen the PlayStation 5 and to a much greater extent, the Xbox Series X/S perform solid backwards compatibility.
The same must be true for the new upgraded Switch unless Nintendo wants to displace millions of gamers.