Wizards of the Coast has remedied its massively controversial Dungeons & Dragons Open Game License and will no longer charge royalty fees.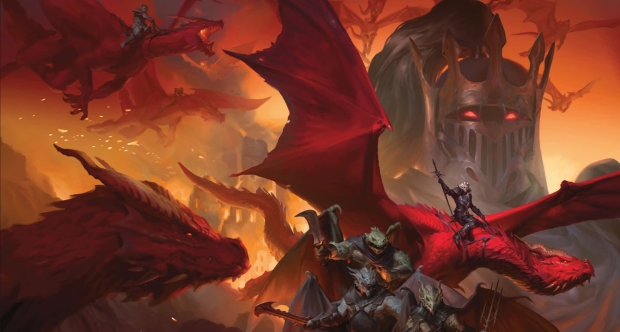 Hasbro is not doing well right now. Consumers aren't buying action figures and the company's subsidiary Wizards of the Coast has had blunders with its Magic: The Gathering brand, both of which caused Q3 net revenues to drop by 15%. The latest Dungeons & Dragons controversy didn't help.
A bit ago, Wizards of the Coast announced they'd be making changes to DnD's Open Game License, or OGL. This public copyright license gives players the right to modify, copy, redistribute and sell their own versions of the current active edition of the game. For 23 years now Wizards has not charged its fans any kinds of fees involved with the OGL.
A new draft changed that. OGL 2.0 documentation was leaked onto the internet and mentioned royalty fees--Wizards wanted a share from anyone who made money from selling DnD content through the Open Game License.
Fans pushed back hard and now Wizards of the Coast has amended the OGL 2.0, confirming that they will no longer charge any sort of royalty fee. WotC issued a statement on the matter can be read here.
Below is a paraphrasing of the more relevant tidbits from the announcement:
What it will not contain is any royalty structure. It also will not include the license back provision that some people were afraid was a means for us to steal work.

When we initially conceived of revising the OGL, it was with three major goals in mind. First, we wanted the ability to prevent the use of D&D content from being included in hateful and discriminatory products. Second, we wanted to address those attempting to use D&D in web3, blockchain games, and NFTs by making clear that OGL content is limited to tabletop roleplaying content like campaigns, modules, and supplements. And third, we wanted to ensure that the OGL is for the content creator, the homebrewer, the aspiring designer, our players, and the community-not major corporations to use for their own commercial and promotional purpose.

The next OGL will contain the provisions that allow us to protect and cultivate the inclusive environment we are trying to build and specify that it covers only content for TTRPGs. That means that other expressions, such as educational and charitable campaigns, livestreams, cosplay, VTT-uses, etc., will remain unaffected by any OGL update. Content already released under 1.0a will also remain unaffected.

In addition to language allowing us to address discriminatory and hateful conduct and clarifying what types of products the OGL covers, our drafts included royalty language designed to apply to large corporations attempting to use OGL content.