For many MSI Afterburner is the tool of choice when it comes to overclocking and tweaking their desktop GPU, and has been a mainstay for several years. Although it falls under the MSI banner it works on pretty much any GPU as it "gives you complete control" and "lets you monitor your hardware in real-time". And it's reliable to boot, offering easy-to-use overclocking tools to anyone; which makes the news that its future is uncertain, a concern.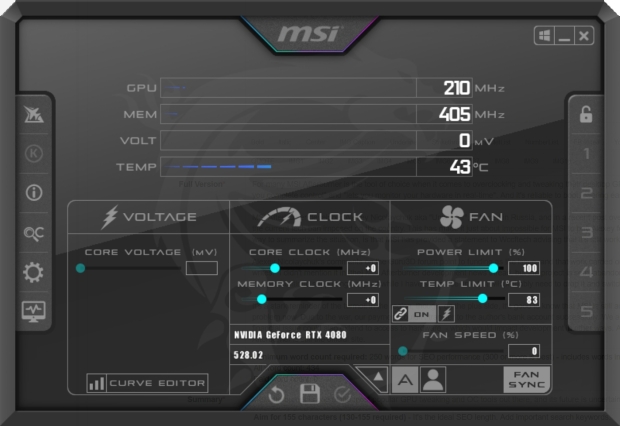 MSI Afterburner developer Alexey Nicolaychuk aka "Unwinder", is based in Russia, and in a recent post over at the Guru3D forums he outlines that funding has been a major issue due to the recent conflict in the region, the ongoing war, and the current tech ban imposed on the country. This has made it just about impossible for MSI to pay Alexey for his work, to the point where he notes that the "MSI afterburner project is probably dead". The silver lining, and that's a pretty grim way to summarize the situation, is that MSI has provided a statement to Wccftech advising that it's still working hard to try and find a solution.
Alexey Nicolaychuk's comments point to funding as the issue, and that work carried out over the past year has been done out of pocket due to the political turmoil in the region. "War and politics are the reasons," Alexey writes. "I didn't mention it in [the] MSI Afterburner development news thread, but the project is semi-abandoned." Adding, "I have a feeling that I'm just beating a dead horse and wast[ing] energy on something that is no longer needed. Anyway, I'll try to continue supporting it myself while I have some free time but will probably need to drop it and switch to something else, allowing me to pay my bills."
It's a stark reminder of the turmoil in the region, though, on the plus side, it's good to know that MSI is still actively looking to find a solution. In a statement made MSI notes, "Our product marketing and accounting team are dealing with this problem now. Due to the war, our payment couldn't transfer to the author's bank account successfully. We are still keeping in touch with him and figuring out how to solve this."
As originally reported by Videocardz.com we also learn that the financial issue could also extend to access to hardware - which would impact development in other ways. Not only that but there's been a wave of clones popping up with malware, with MSI noting that the official source for all things MSI Afterburner is still the official site. Which as of writing, is still up.