Spotswood release Bass Drum PC Chassis
pa rum pum pum pum.
Published Mon, Feb 4 2008 10:34 PM CST
|
Updated Tue, Nov 3 2020 12:38 PM CST
A small PC case making company in New Hampshire, USA by the name of Spotswood Custom Computers is about to get attention from all over the world with the release of a new bass-drum style enthusiast PC chassis.
Looking at the clickable thumbnail pictures above is enough for you to realise the company has gone to great lengths in designing a high-quality well finished product here.
The L-24 is especially designed for water cooling to be used, which is clear given how much room the huge drum has inside for your components. Two external 5.25" devices can be mounted to the case and up to 15 (wow!) 3.5" HDDs can be housed inside.
The drum itself is made out of maple veneer plywood which is very strong and also light weight. Up to 12 fans can be installed in the case and the motherboard tray is removable. Front I/O wise you're provided with USB 2.0, audio and FireWire ports.
You can choose your drum-case from a variety of colours including Natural, Light Oak, Dark Oak, Candy Apple Red, Golden Yellow, Blue and Purple; personal customizations can also be requested.
The only downside to this highly unique well finished chassis is the pricetag. At $599 plus shipping I'm sure this will put it out of reach for most, unless you really are a true fan of the design and just can't do without it.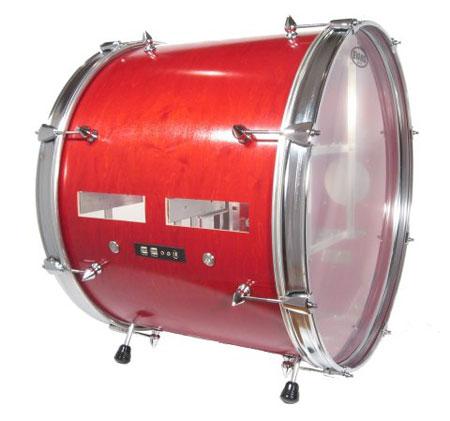 For further information about the L-24 and other cases on offer from Spotswood Custom Computers, check out their
website here
folks.