Apple Macbook Air "Killer" from Lenovo
Ultimate X300 ThinkPad.
Published Thu, Jan 24 2008 4:08 AM CST
|
Updated Tue, Nov 3 2020 12:38 PM CST
Lenovo has leaked some specs on their latest ThinkPad to
Gizmodo
, dubbing it the "Ultimate ThinkPad X300". This comes a few days after the Macbook Air was released to the public and the leak is intended to keep those few "on the fence" individuals about to embrace the elitist Apple brand, in-check.
Fortunately they were tempered by good sense (or hesitation about expense) and have now got an alternative competing product.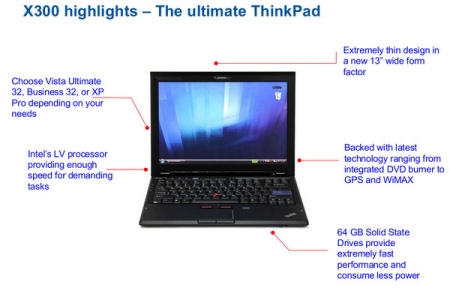 The immediate advantage of the Lenovo product is of course its full array of impressive specs, including XP and Vista compatibility, 13.3-inch LED backlit 1440x900 screen, a 64GB Solid State drive, 4 hours of battery life, up to 4GB of DDR2 PC2-5300 memory an Intel Santa Rosa Dual Core CPU (2.0GHz / 880MHz ) but the real plum in the pudding is the 7mm DVD burner incorporated onto the X300 purportedly about the same size as the Macbook Air and coming in a little lighter too at 2.5 pounds.
While I don't expect die-hard Apple fans to refrain from the Macbook Air, at least those of us who were wavering have seen some light at the end of the tunnel.