GPU-Z update: blocks engineering sample GPU leaks, shows DLSS version
GPU-Z 2.48.0 update has a new 'DLSS' section, locates all installed games with DLSS support and tells you which version of DLSS they're using, and more.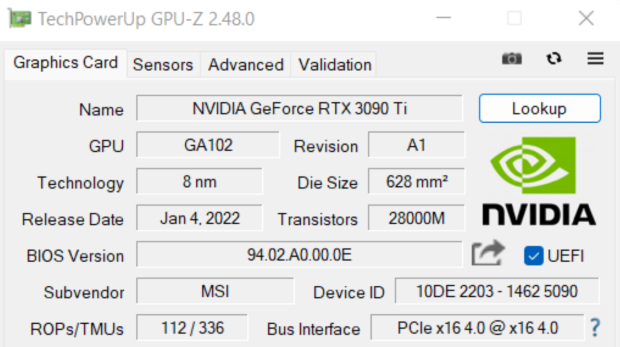 VIEW GALLERY - 3
Published Sep 7, 2022 11:30 PM CDT
2 minutes & 4 seconds read time
GPU-Z has some new abilities with the latest 2.48.0 update seeing the developers tweaking GPU-Z so that it doesn't send traffic when NVIDIA engineering samples are being tested... but get this: NVIDIA reportedly requested that TechPowerUp add this to GPU-Z.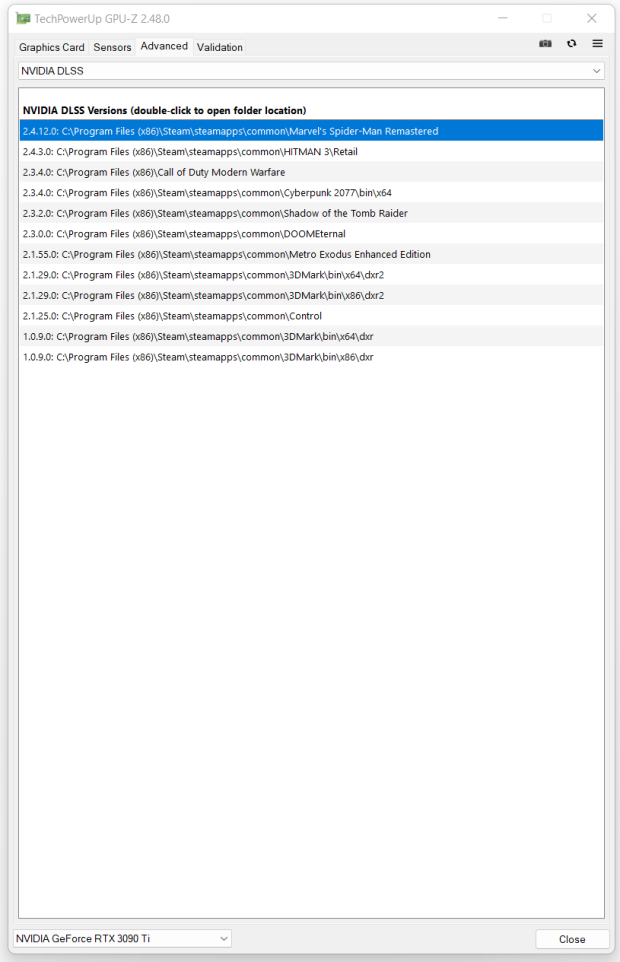 NVIDIA driving this into GPU-Z means we won't see Ada Lovelace GPUs being leaked, with upcoming GeForce RTX 4090, GeForce RTX 4080, and GeForce RTX 4070 graphics cards right around the corner. We won't see AIB partners submitting GPU-Z validations or BIOSes to TechPowerUp databases.
How does GPU-Z do that exactly? GPU-Z no longer resolves the "www.techpowerup.com" domain, but "www.gpu-z.com" which will make network blocking much easier than usual, but it's not really going to stop GPU leaks when it comes to NVIDIA's next-gen Ada Lovelace and GeForce RTX 40 series graphics cards... leakers can take photos and upload them, they just won't be automatically submitted to the GPU-Z database.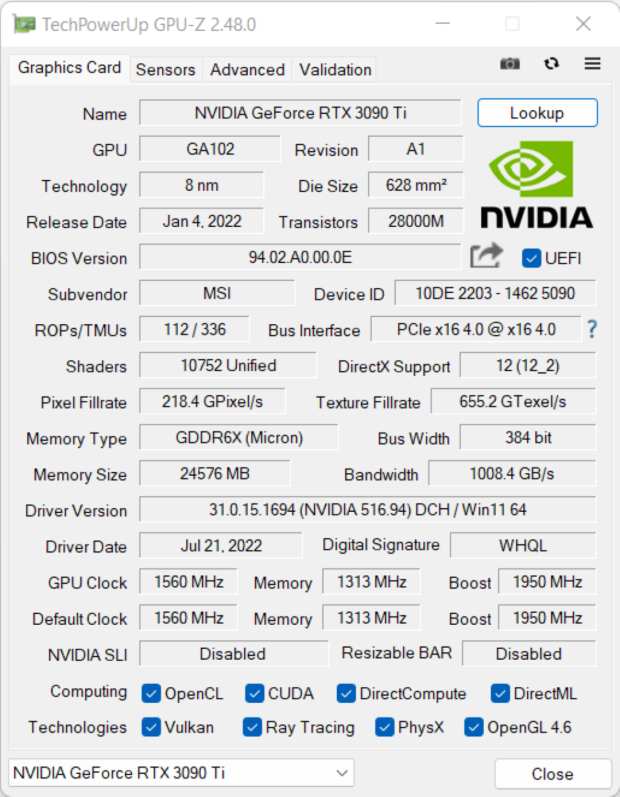 In the changelog for GPU-Z 2.48.0, it reads "When an NVIDIA Engineering Sample GPU is installed, GPU-Z will block all network activity (feature request by NVIDIA)". So, NVIDIA has reached out to the GPU-Z developers in preparation of the GeForce RTX 40 series GPUs to prevent leaks. Interesting.
The team has added a new "DLSS" section in the Advanced Tab of GPU-Z that locates all of the installed games on your system that support NVIDIA DLSS technology and tells you which version of DLSS they're using. That's a super-awesome little addition to an already daily piece of software for many people, myself included.
GPU-Z 2.48.0 changelog
Added new "DLSS" section to Advanced Tab, which will locate all installed games with DLSS support and report their DLSS version

GPU-Z will no longer send traffic to www.techpowerup.com and uses www.gpu-z.com exclusively, which makes it easier for IT administrators to block traffic originating from GPU-Z. All previous endpoints on techpowerup.com will be disabled soon, please update your firewall rules accordingly

When an NVIDIA Engineering Sample GPU is installed, GPU-Z will block all network activity (feature request by NVIDIA)

Many improvements to Intel Arc detection, sensors, reporting and specs

Renamed Intel discrete GPU power sensor to "GPU Chip Power Draw" to clarify that it does not measure whole board power, but GPU chip power only

Improvements to Chinese translation

Added detection for Advantech vendor Id

Fixed fan speed monitoring on Intel DG1 with newer drivers

Fixed RTX 3080 12 GB release year

Fixed Ryzen 5800H release date

Fixed RV670 die size

Added support for NVIDIA GeForce RTX 3050 OEM, MX550 (TU117-A), RTX A5500, A5500 Mobile, A4500 Mobile, A3000 12 GB Mobile, A1000 Embedded

Added support for Intel Core i5-1230U, several new Arc SKUs

Added support for AMD FireStream 9170
Related Tags