German mob puts 3-way SLI to the test
3 x 8800 Ultra in Crysis.

Published Wed, Dec 12 2007 7:03 AM CST
|
Updated Tue, Nov 3 2020 12:38 PM CST
PCGH from Germany managed to
get their hands on
three GeForce 8800 Ultra graphics cards and a yet to be released nForce 780i motherboard for some 3-way SLI loving!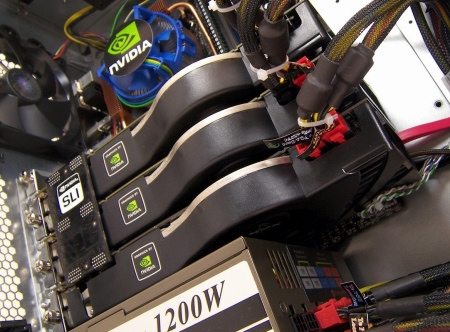 During their inspection, they tested in the hugely intensive Crysis gaming title comparing results between single Ultra, SLI Ultra and of course 3-way Ultra - fun for the whole family, well, at least the rich ones. Apparently they got their hands on an unreleased SLI patch for Crysis which they claim helps SLI performance
a lot
.
Of particular note is one test which yielded a 150% gain in performance over a single lonely 8800 Ultra when running at 1920 x 1200 at "very high" settings and 1x AA and 1x AF. It's not the 300% like you would hope when spending so much money on such a setup but at least it shows 3-way SLI is up and running fairly well at this stage of the game.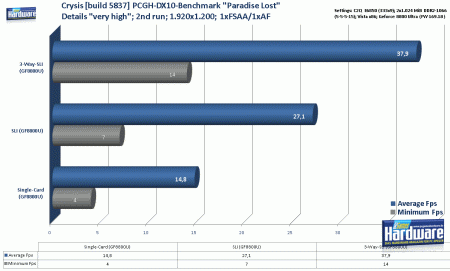 If you interested in dropping huge dollars on a 3-way SLI setup this Christmas, make sure you check it out. What is crazy about the whole concept though is not just the GeForce GTX or Ultra that you need to buy but it is the accompanying nForce 780i motherboard and horrendously expensive power supply that make the grand total a little far feteched.
Good luck to you Nvidia fans, we say!