New carbon capture system has 99% efficiency, and is twice as fast
Researchers from Japan have created a new direct air capture system that can change 99% of carbon dioxide in the air into a solid.

Published May 31, 2022 7:02 AM CDT
|
Updated Mon, Jun 20 2022 5:11 PM CDT
A study on the new carbon capture method titled "Direct Air Capture of CO2 Using a Liquid Amine-Solid Carbamic Acid Phase-Separation System Using Diamines Bearing an Aminocyclohexyl Group" has been published in the journal ACS Environmental Au.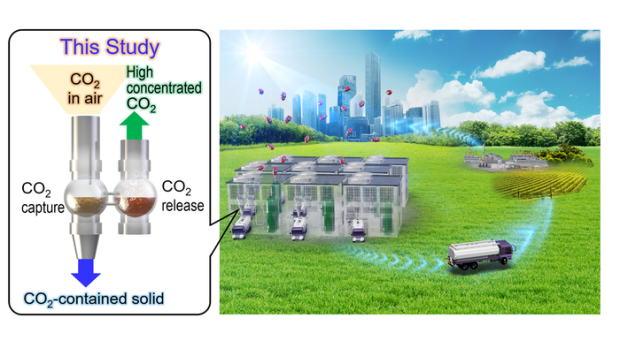 Researchers from the Tokyo Metropolitan University have developed a new direct air capture (DAC) system for removing carbon dioxide (CO2) from the atmosphere. The system passes atmospheric air with relatively low concentrations of CO2 through an aqueous solution of isophorone diamine (IPDA), causing the carbon dioxide to react rapidly and create a solid product.
The solution can also be mildly heated to release the CO2, allowing it to be collected and concentrated for storage or other applications. Heating the system to release the CO2 enables it to be reused to capture more CO2. The IPDA solution can capture 99% of the CO2 in air and turn it into a solid carbamic acid precipitate.
Compared to leading DAC lab systems, the new system is at least twice as fast at capturing carbon dioxide from atmospheric air with a low concentration of CO2 (~400 parts per million, or ppm).
You can read more from the study here.
Adam's Top 3 Recommended Articles:
Read more: Asteroid-mining startup books its first mission, launching with SpaceX
Read more: China is developing ways to destroy SpaceX Starlink satellites
Read more: First Ford F-150 Lightning officially delivered, beating Cybertruck
Related Tags