Alienware to launch 8800M GTX notebooks
15.4 and 17-inch displays.
Published Tue, Nov 20 2007 1:57 AM CST
|
Updated Tue, Nov 3 2020 12:38 PM CST
Alienware has finally put up its AREA-51 m15x and m17x preview page, but neither model is available as yet. The pictures of the notebooks on the site appear to be renders as well, although Engadget has scored a whole bunch of pictures from the launch event in the US, although some are on the blurry side.
We're looking at some very powerful notebooks here as both models will feature a mobile Intel Core 2 Duo Extreme processors and our guess is that it'll be the X7900 rather than the X7800, but you might get a choice between the two. Graphics power comes from the just launched GeForce 8800M GTX and the m17x will even be available with a pair of these cards due to its larger formfactor.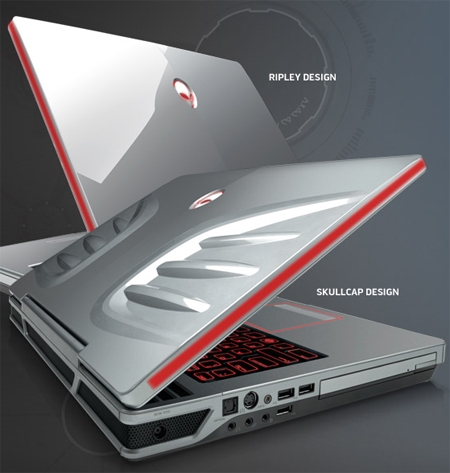 Still not happy? How about features like up to 4GB of DDR2 667MHz DDR2 memory, two or three hard drives, Blu-ray burner and fancy user selectable LED backlight colours? It's all there and so is 1,920x1,200 displays, HDMI ports and it even looks like FireWire 800 has been given the nod. The m17x even has an optical S/PDIF output of the type you normally find on amplifiers or standalone DVD players.
Of course things like HD audio, Gigabit Ethernet, Wi-Fi, Express card support, memory card reader and a multitude of USB 2.0 ports are all thrown in for good measure. We're not so sure about the design being a hit, it looks sort of a mix between Mac Pro meets Tron with a touch of Saitek gaming keyboard design thrown in for good measure.
It will even be available with two lid designs (thank you Alienware), as you have a choice between the Skullcap design and the Ripley design and in this case subtle has to be the way to go, as this notebook is already screaming "steal me, steal me" just by having all those fancy lights glowing around the screen edge.
We doubt very much that either model will be all that portable considering all the hardware that Alienware has loaded them up with, but as a Lanparty machine which could possibly even replace your desktop system, they're not a bad option, if you can afford one, since we're not expecting either model to come cheap once they arrive in the first quarter of 2008.
You can find the official Alienware page
here
and the Engadget pictures
here