NASA: Tonga volcano eruption rose higher than ever seen by satellites
NASA has calculated the height of the plumes from the 2022 Hunga Tonga eruption reached a peak height of 58 kilometers (36 miles).

Published Sat, Feb 19 2022 1:01 AM CST
|
Updated Wed, Mar 16 2022 2:54 PM CDT
The Hunga Tonga volcano eruption occurred on January 15th, 2022.
Two weather satellites in a geostationary orbit overhead witnessed the eruption; the National Atmospheric and Oceanic Administration's (NOAA) GOES-17 and the Japanese Aerospace Exploration Agency's (JAXA) Himawari-8. According to NASA, the event was the largest volcanic eruption since satellites have been monitoring Earth.
Scientists from NASA's Langley Research Center analyzed the data from these two satellites and determined the plume of volcanic ash from the eruption reached 58 kilometers (36 miles) at its highest point. The plume reached into the mesosphere, the third layer of Earth's atmosphere, and reached its peak height around 30 minutes after the eruption. A secondary plume followed the first and reached more than 50 kilometers (31 miles) high.
The previous highest plume spotted by satellites came from Mount Pinatubo, which expelled ash and material up to 35 kilometers (22 miles) into the air above the Philippines in 1991.
"The intensity of this event far exceeds that of any storm cloud I have ever studied. We are fortunate that it was viewed so well by our latest generation of geostationary satellites and we can use this data in innovative ways to document its evolution," said Kristopher Bedka, an atmospheric scientist at NASA Langley who specializes in studying extreme storms.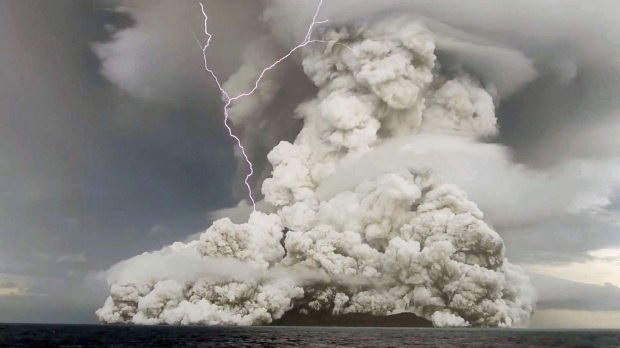 Related Tags