Sparkles dishes up unique 8600GTS
Bling LCD display.
Published Mon, Oct 29 2007 5:52 PM CDT
|
Updated Tue, Nov 3 2020 12:38 PM CST
I've just spotted
some brief details
on this new GeForce 8600GTS graphics card from Sparkle over at TechConnect which has a rather interesting feature that sets itself apart from the rest.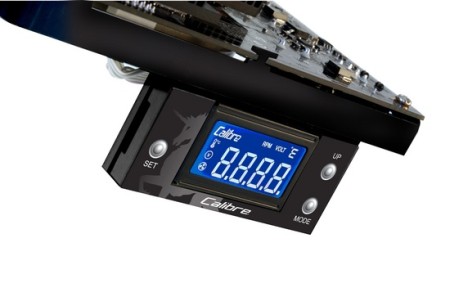 As a member of their Calibre series this 'pimped out' version sports a GDP2 daughter card/LCD display which is able to report such information as real-time GPU temps, voltages and fan speeds. Additionally, they glamour it up a bit more by giving it a black PCB and cooler as well as increasing the shader clock from the stock 1450MHz to 1512MHz.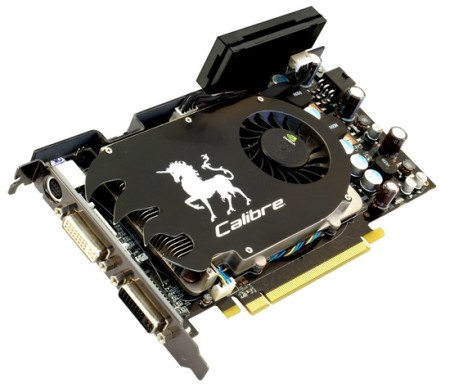 Though we haven't been informed of the card's pricing yet, the usual problem with cards like this is that they tend to be priced quite a bit higher than other run of the mill cards based on the same GPU/memory config. Sometimes with that inflated pricetag, you're better off moving to the next card up the chain (in this case, the 320MB 8800GTS or the even faster/newer 8800GT).
With that said, this
Calibre P860+
card from Sparkle would certainly look impressive in a tidy windowed case should you be into showing off your hardware.
Sparkle Computer has now updated its Calibre graphic card series, and has pimped out a GeForce 8800 GTS. In addition to coloring the PCB black together with the stock cooler, Sparkle has equipped the Calibre P860+ with a (Graphics Display Por) GDP2 daughter card. The card itself comes with stock clocks for the GPU (675MHz) and memory (2000MHz) but with an updated, overclocked shader clock of 1512MHz (1450 MHz stock) while the GDP card boasts one nice, shiny LCD screen.