Rare 200 million-year-old dinosaur footprints found on beach
Scientists have discovered dinosaur footprints on a beach that date back 200 million years, according to a newly published study.

Published Tue, Jan 4 2022 1:04 AM CST
|
Updated Thu, Jan 27 2022 12:00 AM CST
Researchers have discovered footprints that date back 200 million years to dinosaurs that roamed the land during the Triassic period.
A new study published in Geological Magazine on December 29 details the discovery of 1.6 foot-long footprints on a beach in Wales. The researchers behind the study suggest that the footprints are from dinosaurs that date back to the Triassic period around 200 million years ago.
According to the National History Museum, the tracks were created by some kind of large dinosaur, possibly a kind of a biped sauropodomorph, a long-necked herbivorous dinosaur. In a press release from the National History Museum, Paul Barrett, a palaeobiology researcher at the museum, wrote that recently discovered tracks add to a "fairly small" stack of records on dinosaurs from the Triassic period.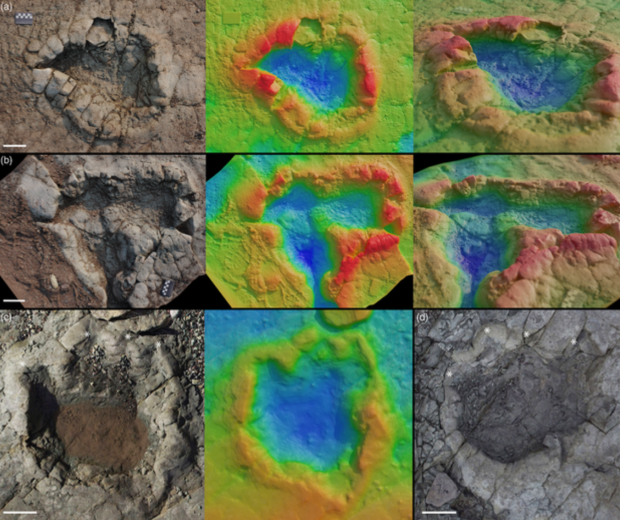 "We think the tracks are an example of Eosauropus, which is not the name of a particular dinosaur species but for shape of a type of track thought to have been made by a very early sauropod or a prosauropod. We know these kinds of dinosaur were living in Britain at the time, as bones of the sauropod Camelotia have been found in Somerset in rocks dated to the same age," said Barrett.
Related Tags