Intel shows quad core QX9770 at 5.4GHz
Overclocks higher.
Published Mon, Oct 15 2007 9:59 AM CDT
|
Updated Tue, Nov 3 2020 12:38 PM CST
Intel also showed of an overclocked version of its upcoming Penryn based Quad Core Extreme Edition XQ9770 which has 12MB of cache, a default clock speed of 3.2GHz on a 1,600MHz bus. It was paired to an X38 based motherboard, some DDR3 memory and a GeForce 8800 Ultra for some performance testing.
The processor was overclocked by Charles "Fugger" Wirth to a "mere" 5.4GHz for the presentation, although he'd hit 5.6GHz the day before. He still managed to break his own SuperPi world record by 0.1 seconds from 8.5 to 8.4 seconds. He also scored some 281,000 points in Aquamark 3 and apparently broke the world record in Cinebench 10, but happened to forget to tell the audience how quick it was, although all four tests were run in 1min 43seconds.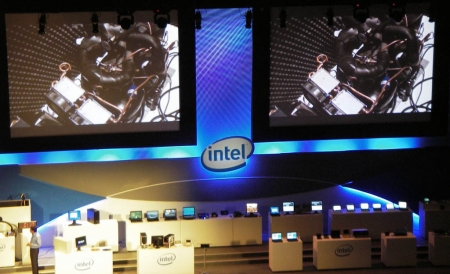 Click to enlarge
He used a cascade cooler to reach the results and it kept the CPU at between -85 to -100 degrees C. Apparently he competes regularly against liquid nitrogen and refrigeration based cooling setups with his cascade cooler. Impress results none the less and a promising start for this new core from Intel.